Isolation and Its Discontents
February 26 and 27, 2021, via Zoom
University at Buffalo, SUNY

Featuring
Saturday, Feb 27 at 3 PM EST
Dr. Aniruddha Dutta, Keynote Speaker
"Isolation to Responsibilization: Contradictions of Trans Activism in India during COVID-19"
The COVID-19 pandemic and the Indian state's high-handed response in the form of severe lockdowns without adequate notice or welfare measures had profoundly debilitating effects on socially vulnerable groups, including trans and gender-diverse people. As many have documented, these impacts, including livelihood loss and psychosocial isolation, prompted a flurry of mobilization and fundraising by trans and kothi-hijra (transfeminine spectrum) activists and organizations for not just their own communities but also other marginalized social groups. This burgeoning sphere of COVID-related activism helped mitigate the intensified social and structural isolation of trans and other vulnerable groups during the pandemic, but evidences several contradictions. Since the immediate need for relief took precedence over challenging state policies, trans activism helped fill in for token welfare measures meted out to these communities, which intensified the process of neoliberal responsibilization wherein individuals and the "civil society" take up responsibility to make up for declining state infrastructure and social security. Further, this activism was characterized by profound inequalities in recognition and funding among activists based on class, caste and geographic location, and the state's utilization of the pandemic period to institute undemocratic bodies for trans welfare, in which elite trans activists were complicit. Based on ethnography and collaborative activism in eastern India, this lecture will explore the conundrums and potentials of Indian trans activism during an unprecedented crisis.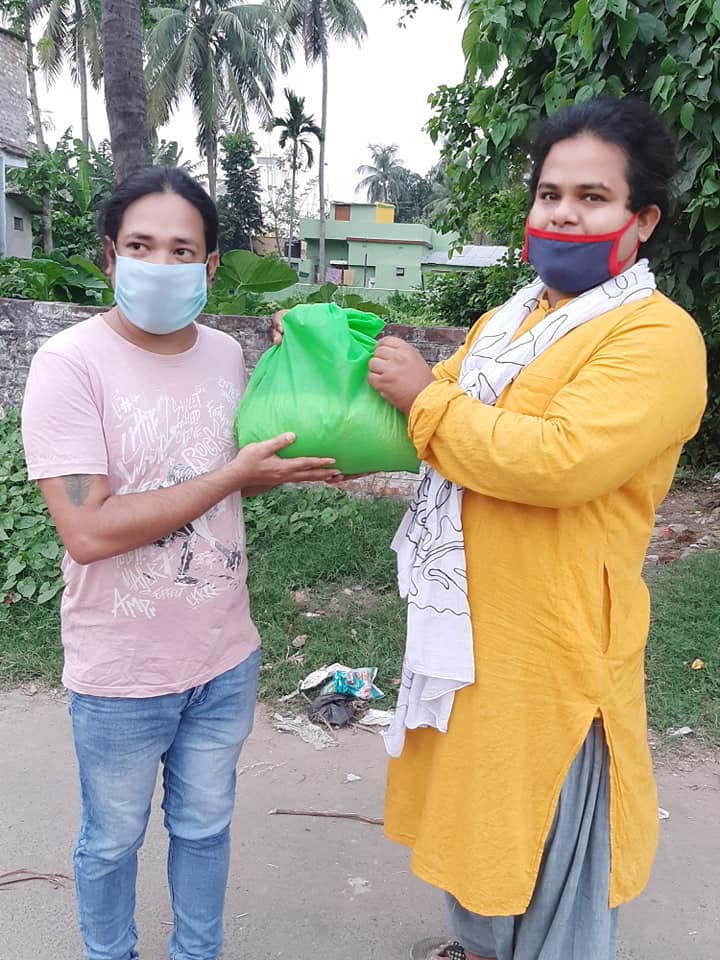 Dr. Dutta is Associate Professor in the departments of Gender, Women's and Sexuality Studies and Asian and Slavic Languages and Literature at the University of Iowa. Their work has appeared in journals such as Transgender Studies Quarterly, QED: A Journal in GLBTQ Worldmaking, International Feminist Journal of Politics, Gender, and History, and South Asian History and Culture.
and

Friday, Feb 26 at 9 PM EST
Paul Livingstone & SANGAM, Guest Performers
Sangam is the chamber music duo of sitarist Paul Livingstone and cellist Peter Jacobson. They have been featured on three Grammy Award-winning records artists with Ozomatli, Quetzal & Rickey Kej.
Conference Program: https://bit.ly/rustgiprogram2021 (subject to change)
Program Schedule
Friday, February 26th
Panel 1: Contextualizing Gender Violence 7:00 pm – 8:30 pm
Syeda M. Bokhari (American University): "Object or Subjects: Women and Violence During the 1947 Partition"
Hannarose Manning (SUNY Geneseo): "Prostitution in Times of Rebellion: Examining the Roles Prostitutes Played in the 1857 Rebellion and the Legacy They Left Behind"
Olivia Frison De Angelis (The College of Wooster): "Criminals and Comic Relief: Hijra Misrepresentation in South Asian Films"
Mridula Sharma (University of Delhi ): "Escaping Isolation(s): (Re)Constructing the Kashmiri Woman in Popular Imagination"
Performance: Paul Livingstone & SANGAM 9:00 pm
Saturday, February 27th
Panel 2: Mediated Spaces 9:00 am – 10:30 am
Amna Ejaz (Lahore University of Management Sciences): "Netflix in Pakistan: Navigating Evolving Screen Modalities among Young Adults"
Nimra Tariq (Lahore University of Management Sciences): "Blood, Guns, and Words: Response to violence in Palestinian and Kashmiri rap music"
Uswah e Fatima (Lahore University of Management Sciences): "A Shared Past & An Ambivalent Future: The Dynamics Between the Pakistani and Indian Film Industries"
Panel 3: Reclamation of Identity 11:00 am – 12:30 pm
Sukanya Maity (Jadavpur University): "Fleeing from the Nations of Pandemics and Epidemics: Walls, Isolation"
Wajeeha Amir (Lahore University of Management Sciences): "Ajab Khan Afridi in Pashto Cinema: Changing Representations and Shifting Identities"
Panel 4: Isolation, Religion, and Othering 1:00 pm – 2:30 pm
Upasana Rajagopalan (Ashoka University): "Caught in the web of inequalities: The Devadasis' Isolation"
Nicholas Hom (Elon University): "A Model of Religious Othering for Medieval Tamil Literature"
Lucas J Brenner (SUNY Geneseo): "Wahhabism and the Isolation of Indian Muslims After the 1857 Rebellion"
Keynote Speaker 3:00 pm
Dr. Aniruddha Dutta, "Isolation to Responsibilization: Contradictions of Trans Activism in India during COVID-19"
This online event is free but registration is required. To register, please visit https://bit.ly/rustgiregistration2021 Further details will be provided before the event to those who register.
Inquiries
Please contact rustgiconference@buffalo.edu for more information.

To view past conference programs, please visit http://bit.ly/rustgi2018 or http://bit.ly/rustgiprogram2019

The third annual Rustgi Undergraduate Conference on South Asia is made possible by a generous gift from Dr. Vinod Rustgi and his family.