Distinguished Speaker Series ~ Susan Rice
February 28, 2018 @ 7:30 pm

-

9:30 pm

Free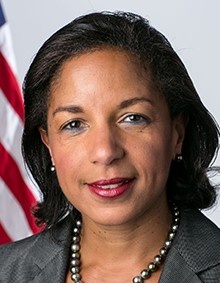 Susan Rice | Feb. 28, 2018
Tickets available for graduate students now at the SBI Ticket Offices (221 Student Union and 135 Diefendorf Hall).  2 per UB ID.
Former U.S. National Security Advisor (2013-17)
UB's 42nd Annual Martin Luther King, Jr. Commemoration Keynote Speaker
More About Susan Rice
Ambassador Susan E. Rice served President Barack Obama as National Security Advisor from July 1, 2013 to January 20, 2017. In that role, she led the National Security Council Staff, chaired the Cabinet level National Security Principals Committee, provided the President's daily National Security briefing, and was responsible for the coordination and integration of all aspects of the administration's foreign and National Security policy, intelligence and military efforts.
From January 2009 until assuming the role of National Security Advisor in July 2013, Rice served as U.S. Permanent Representative to the United Nations. At the UN, she worked to advance U.S. interests, defend universal values, strengthen the world's common security and prosperity, and promote respect for human rights. Under Rice's leadership, the U.S. Mission to the United Nations helped win the stiffest UN sanctions ever against Iran and North Korea, unprecedented action to prevent the proliferation of nuclear weapons and materials, support for life-saving interventions in Libya and Cote d'Ivoire, cooperation on the referendum for independence in Southern Sudan, vital UN assistance in Afghanistan and Iraq, stalwart support for Israel's security and legitimacy, and progress on reform of the flawed UN Human Rights Council.
Prior to serving as U.S. Permanent Representative to the UN, Rice served as Senior Advisor for National Security Affairs on the Obama for America Campaign and later on the Advisory Board of the Obama-Biden Transition and as co-chair of its policy working group on National Security. From 2002-09, she was a Senior Fellow at the Brookings Institution, where she focused on U.S. foreign policy, transnational security threats, weak states, global poverty and development.
From 1997 to 2001, Rice was the U.S. Assistant Secretary of State for African Affairs. In this position, she formulated and implemented U.S. policy for 48 countries in Sub-Saharan Africa and oversaw the management of 43 U.S. Embassies and more than 5,000 U.S. and Foreign Service national employees. In 2000, Rice was co-recipient of the White House's 2000 Samuel Nelson Drew Memorial Award for distinguished contributions to the formation of peaceful, cooperative relationships between states. From 1995-97, Ambassador Rice served as Special Assistant to President William J. Clinton and Senior Director for African Affairs at the National Security Council at the White House. From 1993-95, she served as the Director for International Organizations and Peacekeeping on the National Security Council staff. Previously, Ambassador Rice was a management consultant with McKinsey and Company in Toronto, Canada, and served on numerous boards, including the Bureau of National Affairs (BNA), National Democratic Institute and the U.S. Fund for UNICEF.
Rice received her master's and doctoral degrees in International Relations from New College, Oxford University, England, where she was a Rhodes Scholar. She was awarded the Chatham House-British International Studies Association Prize for the most distinguished doctoral dissertation in the United Kingdom in the field of International Relations. Ambassador Rice received her BA in History with honors from Stanford University, where she was named junior Phi Beta Kappa and was a Truman Scholar.
In 2017, French President Francois Hollande presented Rice with the award of Commander, the Legion of Honor of France, for her contributions to Franco-American relations.
For source or more information, please visit:
Lecture Sponsor(s)