Please note that for local and virtual conferences, registration expenses only will be considered a fundable expense.  
There is a limited availability of funds to assist graduate students in presenting research work at and attending academic conferences. PhD students, remaining at the university longer than Masters students, will receive up to $750 towards conferences and Masters students will receive up to $550. Students who are attending a conference, but not presenting, are eligible for $200. This amount will come out of the total $550/$750 each student is eligible for throughout their graduate career.
The GSA Conference Funding Application is available as an online form on GSA's UBLinked page.  Please note that you must be signed in to UBLinked and "Join" as a member of GSA in order to be able to access the form on the Homepage. A screenshot of where the form can be found is included below.  Just note that after you "Join" you may need to wait a few minutes and refresh your browser before the form will appear.  If you have any questions, please email gsa-feedback@buffalo.edu.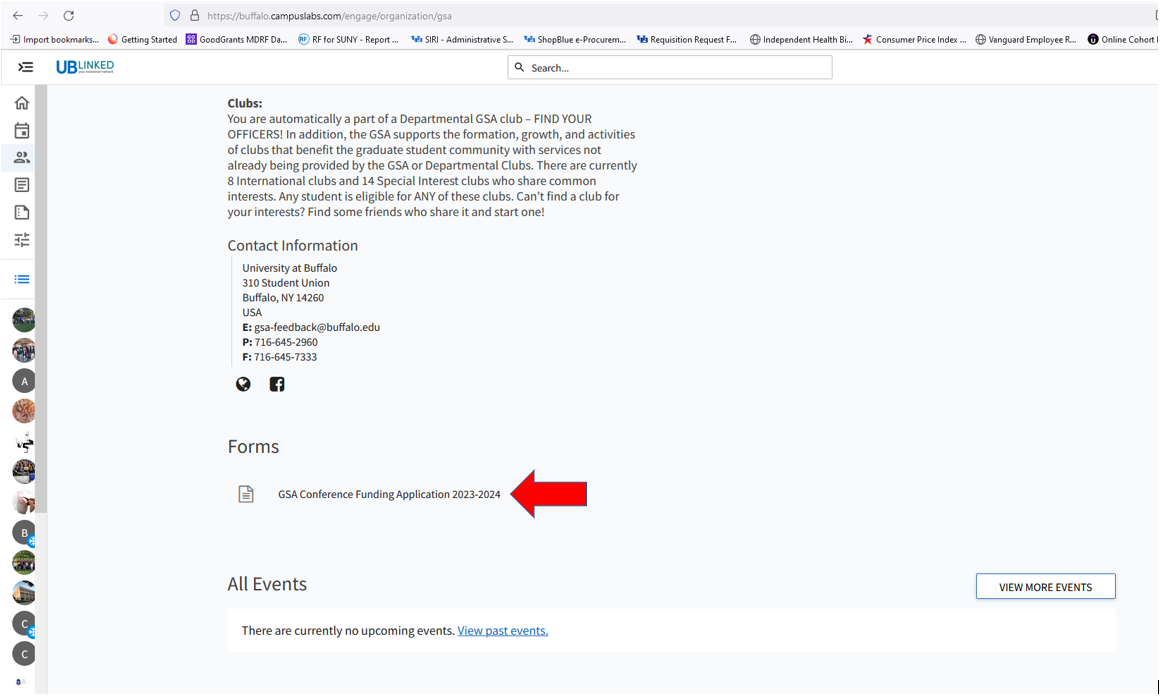 Guidelines
GSA Conference Funding Guidelines
Deadlines
**Please note that all deadlines are by close of business on the deadline date.**
August 2023 Conferences: Saturday, July 15, 2023
September 2023 Conferences: Tuesday, August 15, 2023
October 2023 Conferences: Friday, September 15, 2023
November 2023 Conferences: Sunday, October 15, 2023
December 2023 Conferences: Wednesday, November 15, 2023
January 2024 Conferences: Friday, December 15, 2023
February 2024 Conferences: Monday, January 15, 2024
March 2024 Conferences: Thursday, February 15, 2024
April 2024 Conferences: Friday, March 15, 2024
May 2024 Conferences: Monday, April 15, 2024
June 2024 Conferences: Wednesday, May 15, 2024
July 2024 Conferences: Saturday, June 15, 2024
List of all Fall 2023 GSA Deadlines
List of all Spring/Summer 2024 GSA Deadlines