Distinguished Speaker Series ~ Malala Yousafzai
September 19, 2017 @ 7:30 pm

-

11:00 pm

Free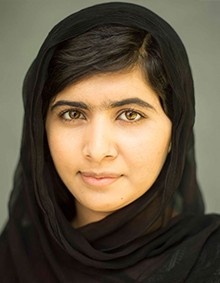 Malala Yousafzai | Sept. 19, 2017
Free tickets will be available for graduate students at the SBI Ticket Offices (221 Student Union and 135 Diefendorf Hall) starting on Thursday, September 7th.  2 per UB ID.
Girls Education Activist & Nobel Peace Prize Winner
Graduate Student Choice Speaker
More About Malala Yousafzai
A champion since the age of 10 for the right of girls to receive an education, Malala Yousafzai made headlines when she was shot by the Taliban in 2012 at the age of 15 while traveling home from school on the bus with her friends in Pakistan.
Now living with her family in Birmingham, England, she is internationally known for her courage in refusing to be silenced and continues to campaign for the right of every child to go to school.
Yousafzai is the co-recipient, with Kailash Satyarthi, of the 2014 Nobel Peace Prize. Aged 17 at the time, she was the youngest-ever to receive the Nobel Peace Prize.
In April 2017, Yousafzai received honorary Canadian citizenship.  The sixth and youngest person to receive the honor, she also became the youngest person to address the House of Commons of Canada.  This year she also became the youngest United Nations Messenger of Peace.  Yousafzai was named to TIME Magazine's annual list of the 100 most influential people in the world in 2013, 2014 and 2015.  In 2012, she was the recipient of Pakistan's first National Youth Peace Prize and in 2013, she received the Sakharov Prize and was honored with Amnesty International's Ambassador of Conscience Award.
She is the author of "I Am Malala" (2013), an international bestseller that has been translated into 40 languages.
Following the outpouring of support that Yousafzai received after the Taliban's attempt on her life in 2012, she set up an international fund – the Malala Fund – dedicated to promoting education for girls throughout the world.
For source or more information, please visit:
Lecture Sponsor(s)