Our Mission
Helping Apps for Practitioners and Educators, HAPPE, is a monthly blog series of the University at Buffalo School of Social Work.  The goal of the series is to connect practitioners and educators in the Helping Professions with mobile apps they may find useful in practice or in their pursuit of life-long learning.  We believe digital literacy is an important skill for the new millennium. This series aims to educate and inspire Helpers to appropriately integrate technology into their professional lives.
Contact Us
Do you have suggestions on how we could improve our blog?  Do you have questions about any of the content that is on our pages? If you do we would love to hear from you!  Please contact us at swtech@buffalo.edu.
About our Reviews
Reviews posted by HAPPE are jointly written by our blog authors. Our team works collectively to review apps so that we incorporate multiple perspectives when reviewing a particular app.
The HAPPE team uses the most recent version of an app at the time the app was written. If you are using a newer version of an app, we encourage you to write your own review and send it to our team so we can supplement our original review.
Our Blog Authors
Caitlin Beck
Caitlin Beck is a dual degree graduate student in University at Buffalo's Juris Doctor and Masters of Social Work programs. In addition to her appointment with HAPPE, she is the production associate of inSocialWork®, the podcast series of the University at Buffalo School of Social Work. After she graduates, Caitlin intends to pursue a career practicing public interest law.
Steven Sturman
Steven Sturman is an Instructional Designer for the University at Buffalo, School of Social Work.  He has been working with integrating technology into education for over twenty years.  He specializes in using multimedia, standardized patient simulations, and synchronous technologies to allow students to learn intervention strategies and develop practice skills in online and hybrid courses.
Charles Syms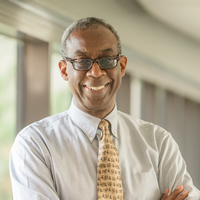 Charles Syms, LCSW/ACSW, clinical associate professor – emeritus, has been a member of faculty at the graduate School of Social Work at the University of Buffalo since 1998. He has over thirty-five years of professional social work practice including work in child welfare, domestic violence, forensic mental health, and substance use disorders.  Professor Syms has been teaching courses on-line since 2011. Additionally, he was previously a member of the University at Nevada, Reno National Frontier and Rural Addiction Technology Transfer Center's Technology-based Clinical Supervision Workgroup and the University at Buffalo Faculty Senate's IT Subcommittee.  Professor Syms is a proponent of integrating technological and web-based resources into social work education, in both on-line and seated courses, as well as professional practice.