By Maria Adam, MS in Accounting '23
The thought of taking the CPA exam can be daunting. It is a hard, but not an impossible task. My first bit of advice is to take the exams in the order that best works for you and do not compare yourself to others.
Below are five tips and tricks I have discovered while on my CPA licensing journey:
Find a job. CPAs are in high demand and firms are investing in their employees. Go strong through a recruiting season and take an internship where you could see yourself working. Most firms will help with the cost of review materials, taking the exam, paid time off to study and some even offer a bonus upon completion of all four parts. The CPA journey is financially strapping. Let your employer support you through this.

Make a flexible plan. Remember that once you pass one part, you have 18 months to pass all parts. This will take sacrifice, commitment and diligence on your part. Plan to study for each part for a certain number of weeks and give yourself an extra week or so, because not everything always goes as planned. Leaving yourself some wiggle room will help if you need to take a mental health day or tend to something else in life. Tell your family and friends you may be less available for a little while (this is totally okay to do!) You are already under enough pressure, do not put yourself under more.

Supplement and support. The main review courses are great, but not always the best at explaining the how and the why, which are so important. To combat any possible confusion on material, I used supplemental material and joined a Facebook support group run by popular CPA tutors. The supplemental material allowed me to take five-question quizzes "on the go" which helped me in keeping the material fresh and top of mind. The support group has thousands of individuals going through the same process and they are eager and ready to answer any questions. UB is also rich with resources to support your CPA journey. Do not hesitate to reach out to professors or take advantage of a tutor as a different way to understand the material.

Practice, practice, practice. Do not wait until you are through all the review material before you start to practice multiple-choice exam questions. Ongoing, cumulative reviews at the end of each chapter are so important. Constantly practicing multiple choice questions allows you to master, instead of just memorize, the material. I personally found it most beneficial to spend my review time on multiple choice as opposed to practicing simulations. My logic was that if I could best understand the material through multiple choice, I would be able to carry that knowledge to the simulations. This was true for me. Trust the process. It can seem overwhelming at first, but just keep pushing forward. The material makes more and more sense as you go.

Become familiar –with the exam structure and Prometric Center: Each of the four tests has a different structure. AUD, FAR, and REG consist of multiple-choice questions and simulations. BEC is unique and contains a written component. The AICPA provides blueprints of topics you can expect on each exam. The local Prometric Center is in Tonawanda. Take a ride there before your exam day so that you are familiar with the area, parking, where and what the building looks like. This will help decrease exam day anxiety.
In addition, I found the actual exams to be more straightforward than the simulated exams. The AICPA has practice exams on their website for each section; take these to familiarize yourself with how you can expect the questions to be asked.
Something I wish I knew was that you can use the implementation section of the Codification while answering simulations in FAR. Oftentimes these implementations very closely represent a simulation you are answering and are a great guide to follow if you are stuck.
The CPA exam may be tough, but you are tougher! Passing the exams is key to your licensure and key to a future with a secure career and benefits. Believe in yourself and remember you can do anything you put your mind to.
---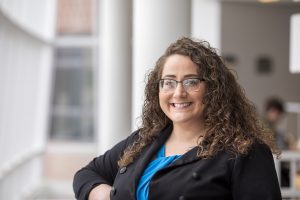 Maria Adam is a recent graduate of the University at Buffalo School of Management Master of Science in Accounting program. As of this post, she is working as an accounting intern at Chiampou Travis Besaw and Kershner LLP.