Shradha Acharya, a recent University at Buffalo School of Management graduate, caught up with Tejaswini Kumar, MS in MIS '22, a Product Manager at Walmart. Tejaswini shares her experiences and insights from her time at UB and how it prepared her for her current role.
You can listen to the podcast episode here.
Tejaswini graduated from UB with a Master of Science in Management Information Systems degree. Throughout her graduate program, she utilized the resources provided by the School of Management's Career Resource Center for resume design and networking, which ultimately helped her land her job at Walmart.
Tejaswini always had an interest in technology and business and saw product management as the perfect intersection of the two fields. She talks about some of the challenges she faced during her studies and early in her career, including imposter syndrome and the fear of failure. She emphasizes the importance of having a growth mindset and the willingness to learn from mistakes and failures. Networking, seeking mentorship and taking advantage of every opportunity to learn are some of the key strategies that helped her overcome these challenges.
When asked about the skills that are important for success in her field, Tejaswini talks about the ability to think critically, communicate effectively, and work collaboratively. She emphasizes the importance of understanding customer needs, being data-driven, and continuously learning and adapting to new technologies and market trends. She explains how her education and experience at UB played a significant role in preparing her for her current position. The courses she took in product management, marketing, and data analytics provided her with a solid foundation.
Tejaswini's advice for students interested in pursuing a similar career path is to take advantage of the opportunities provided by the university, seek mentorship and guidance, and be proactive in their learning and career development. When asked about the future of the industry, she highlights the growing importance of data and analytics in driving business decisions and the increasing adoption of artificial intelligence and machine learning technologies. She recommends that students interested in pursuing a career in product management should stay up-to-date with the latest technologies and trends, and continuously develop their technical and business skills.
Tejaswini also recommends that students looking to break into project management should participate in industry and networking events and seek mentorship from industry professionals. Developing a personal brand and creating a strong online presence through platforms like LinkedIn are important, along with developing a strong work ethic, being adaptable, and continuously learning and growing.
Tejaswini's experience provides valuable insights for students interested in pursuing a career in product management or related fields. UB's programs and resources can help students develop the skills and knowledge needed for success in these fields and provide a solid foundation for their future careers.
---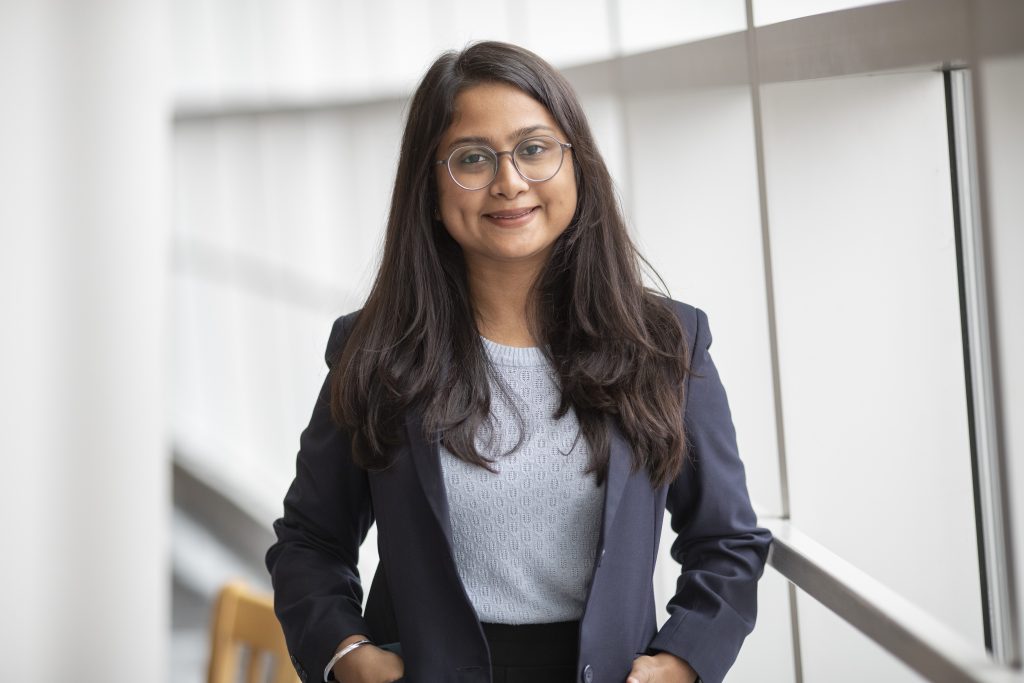 Introducing our dynamic guest for today's podcast episode is Shradha Acharya, a recent MBA graduate from the University at Buffalo, School of Management. Shradha brings her passion for business management, strategic planning, and data analysis. With a drive for continuous learning, She has actively participated in internships and research projects, honing her skills in project management and effective communication. Her collaborative nature and diverse experience make her a valuable addition to any business team.