Written by: Alisa Franasiak, MBA '24
Businesses collect thousands of pieces of data every day, and key metrics of important interactions like transactions, ad campaigns and purchases are all tracked and measured. However, this creates a complicated sea of data that is hard to navigate without the proper analysis and visualization skills. Technology is evolving at an exponential rate, and more and more systems are becoming digital and data-driven. More businesses are moving into the online space, and the marketing world is changing with the advent of social networking, websites, eCommerce, SEO, marketing automation and more.
With this technological evolution, developing digital marketing, marketing research and marketing analytics skills is crucial to help companies thrive in today's economy.
How do you equip yourself with the skills to tackle the ever-evolving digital world? In the UB MBA program there are a plethora of classes to enhance your analytical mindset through the lens of marketing. Management marketing, management science and systems and general graduate management courses will help prepare you for a career at the crossroads of marketing and analytics. You also have the opportunity to concentrate in marketing management and analytics, giving you a well-rounded skill set with various electives.
In management marketing, UB offers Digital Marketing Analytics (MGM 635) and Marketing Research (MGM 667). Digital Marketing Analytics focuses on digital marketing topics like website content, SEO, evaluating KPIs, and conducting A/B testing. You will learn about online advertising pricing models like pay-per-click and CPM. Also, you will engage in hands-on case studies and assignments that equip you with real-world skills. In Marketing Research, you will learn market research methods and how that research impacts marketing decisions. For example, you may determine if an advertisement is successful at driving product sales.
In management science and systems, Social Network Analytics (MGS 653) and Web Analytics and Optimization Techniques for eCommerce (MGS 659) are available. Social Network Analytics provides students with model and analysis tools used to evaluate social networks through predictive and descriptive analytics to drive business interests. Web Analytics and Optimization Techniques for eCommerce equips students with strategies for doing business on the Internet. It details developing an electronic commerce infrastructure, applying technology to optimize commerce, creating a competitive advantage through eCommerce and creating strategies rooted in technology to reach business goals.
In general management, Model Managerial Process (MGG 633), also known as data modeling, is highly raved about. Most UB MBA alumni who I have engaged with have highly recommended this class, regardless of the specific discipline you're pursuing. This course helps you to conduct data-driven analysis that helps to guide business decisions by building models in a spreadsheet environment. You model decisions across the functions of operations, finance and marketing. Knowing how to model data and analyze it with all the metrics in the digital environment is vital in marketing, and being able to extrapolate that data to make marketing decisions is invaluable.
In addition to the coursework, the UB professors are outstanding and prioritize action learning and hands-on application of concepts. They have experience in the industry and make sure to connect theory to real business examples beyond the classroom.
My MBA experience thus far has been fantastic. The program has equipped me with impeccable hands-on application of materials through the analysis of case studies that closely mimic real-world business problems faced in the corporate realm. The marketing and analytics curriculum within the UB MBA program provides a comprehensive knowledge base of industry-standard software, strategies, and methodologies to tackle common problems. If you're looking to springboard your career and graduate with an array of soft and hard skills in your tool belt, UB is for you.
---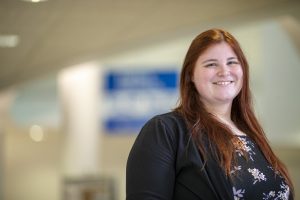 Alisa Franasiak is a current MBA student at the University at Buffalo School of Management. As of this post she is working as an intern at the UB Center for Advanced Technology in Big Data and Health Sciences. She also is the Founder of VentureGigs, a freelance and gig economy platform that connects college students with startups.