Written by: Rachana Medihalli Shashidhara, MS MIS '23
Moving to a new city, state, or country is a daunting experience. When I arrived at the University at Buffalo I wish I had known more about the following five things to help ease some of my anxiety.
Buffalo and Western New York have much to offer.
I had no idea that Buffalo was renowned for its kindness. The city's motto, "city of good neighbors," says it all. The city is renowned for its delectable food and the greatest Buffalo wings. The city is nestled right up to Lake Erie and it has a magnificent waterfront.
Buffalo is known for more than its art, culture and cuisine. The city is full of stunning structures designed by famous architects including Frank Lloyd Wright, H.H. Richardson and Louis Sullivan. Buffalo is one of the American cities with the best-known architecture.
2. Winter weather is manageable and can be fun.
I thought that the winters were harsh before living here, but it's not that bad and I'm able to adapt and manage easily. The secret to winter is to layer up with thermals, jackets, boots, and a scarf. I initially was very skeptical, but winter here is fun. I was scared after I read articles that said winters are freezing, snowy, windy and mostly cloudy, but it's manageable. You can make the most of the winter weather by taking advantage of the snowshoe trails around Buffalo, ice biking experience, skate parks, top-speed tobogganing at Chestnut Ridge skiing, scenic views and more.
3. UB is a major research university.
The purpose of UB as a top-tier, research-focused public university is defined by its groundbreaking research, transformative educational experiences, and passionate commitment to serving its community. Prior to arriving at UB, I had little knowledge of UB LaunchPad, clubs, and other initiatives that encourage more on-campus business. Now, I participate in so many projects and interact with fantastic people in the FinTech and healthcare industries.
4. The university organizes numerous fun day trips.
To educate students about the culture of Western New York, UB plans excursions and other events. During the semester, International Student Services offers us the chance to visit Niagara Falls, Letchworth State Park, and a wine-tasting tour for a small round-trip transportation charge. I was astonished to discover about these school excursions and really enjoyed them because they allowed us to travel together and make new connections.
5. Fridays can be used to focus on career development
Friday Focus are the workshops held by the School of Management's Career Resource Center. We explore how to respond to interview questions, how to develop our LinkedIn profile, how to create a better résumé, participate in case discussions, and network with alumni. We also learn about internship and full-time job opportunities. Only held on Fridays, these programs help us comprehend and prepare for the hiring process.
---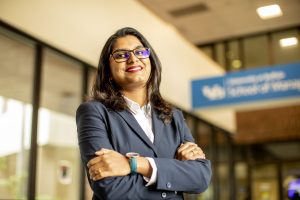 Rachana Medihalli Shashidhara recently graduated from the University at Buffalo School of Management with a Master of Science degree in Management Information Systems.