We warmly invite you to GLITCH/WANT: CONVERSATIONS FROM THE PALAH LIGHT LAB held this Friday, June 11th. GLITCH/WANT features the exciting work of the Palah Light Lab cohort members in impromptu/informal panels. These panel conversations aim to ask and prompt questions across the diverse materials and projects as lab members' work GLITCH-ES hegemonic ideologies and demonstrates WANT. While organized for generative dialogue with cohort members, we warmly welcome outside guests as interlocutors and allies to engage with the presentations and join the conversations with us.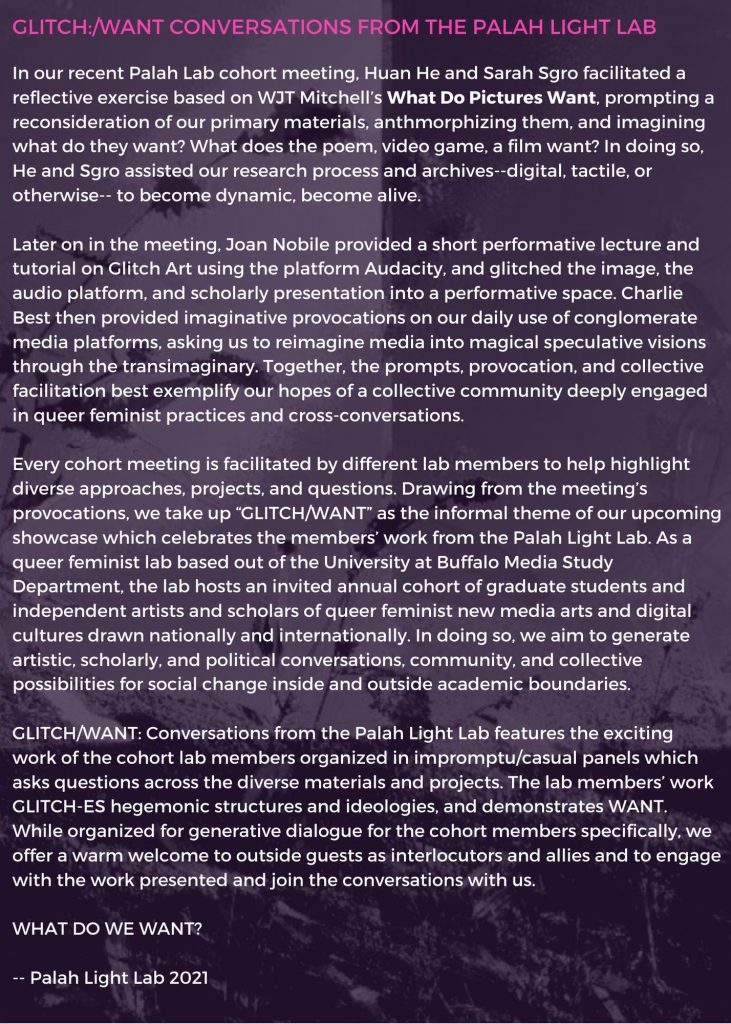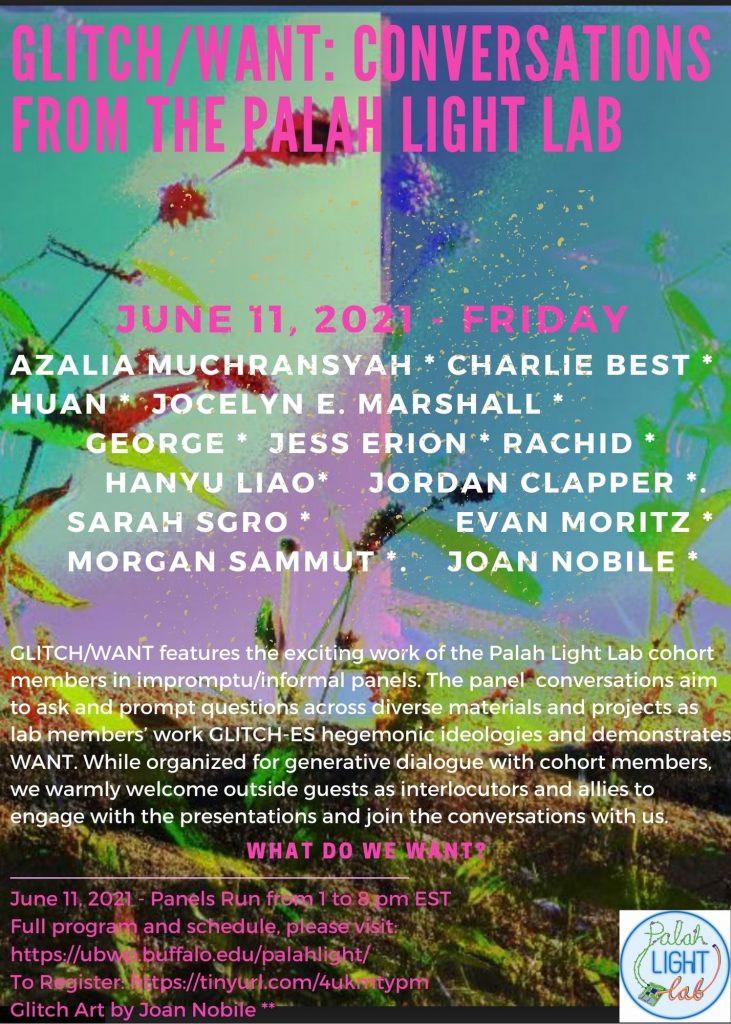 REGISTRATION LINK
PROGRAM & SCHEDULE
1:00 PM EST – Brief Welcome – Margaret Rhee, Cody Mejeur, Blair Johnson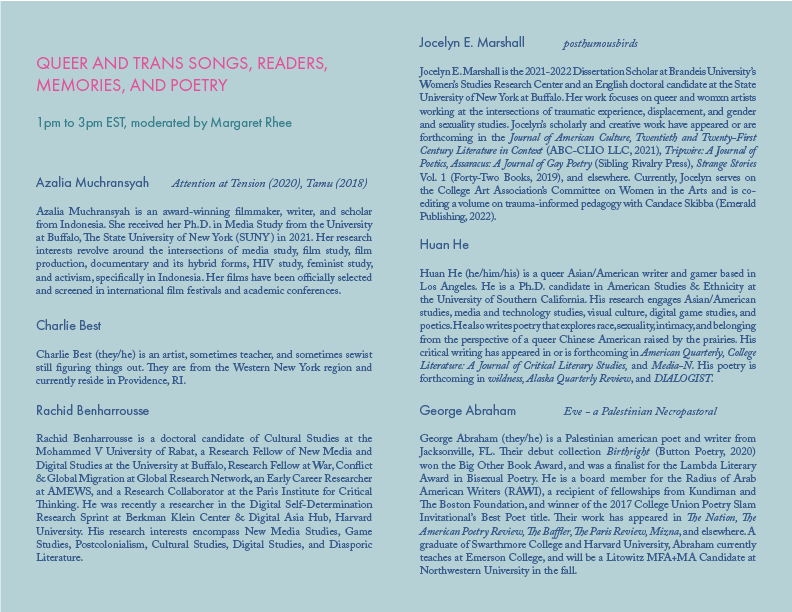 Panel one – 1:00 pm to 3:00 pm (moderated by Margaret Rhee)
Title: Queer and Trans Songs, Readers, Memories, and Poetry
name + brief description
bio
Azalia Muchransyah – hybrid documentary film / Attention at Tension (2020, desktop documentary, 8m52s) or Tamu (2018, mockumentary, 14m51s) (tbc)
Azalia Muchransyah is an award-winning filmmaker, writer, and scholar from Indonesia. She received her Ph.D. in Media Study from the University at Buffalo, The State University of New York (SUNY) in 2021. Her research interests revolve around the intersections of media study, film study, film production, documentary and its hybrid forms, HIV study, feminist study, and activism, specifically in Indonesia. Her films have been officially selected and screened in international film festivals and academic conferences.
Charlie Best – video, media, drawing, and fabric mediums, expressing the nonbinary imagination+more
Charlie Best (they/he) is an artist, sometimes teacher, and sometimes sewist still figuring things out. They are from the Western New York region and currently reside in Providence, RI.
Rachid – E-literature, the reader, and the literary possibilities
Rachid Benharrousse is a doctoral candidate of Cultural Studies at the Mohammed V University of Rabat, a Research Fellow of New Media and Digital Studies at the University at Buffalo, Research Fellow at War, Conflict & Global Migration at Global Research Network, an Early Career Researcher at AMEWS, and a Research Collaborator at the Paris Institute for Critical Thinking. He was recently a researcher in the Digital Self-Determination Research Sprint at Berkman Klein Center & Digital Asia Hub, Harvard University. His research interests encompass New Media Studies, Game Studies, Postcolonialism, Cultural Studies, Digital Studies, and Diasporic Literature.
Jocelyn E. Marshall: posthumousbirds, hybrid poetry-creative nonfiction collection
Jocelyn E. Marshall is the 2021-2022 Dissertation Scholar at Brandeis University's Women's Studies Research Center and an English doctoral candidate at the State University of New York at Buffalo. Her work focuses on queer and womxn artists working at the intersections of traumatic experience, displacement, and gender and sexuality studies. Jocelyn's scholarly and creative work have appeared or are forthcoming in the Journal of American Culture, Twentieth and Twenty-First Century Literature in Context (ABC-CLIO LLC, 2021), Tripwire: A Journal of Poetics, Assaracus: A Journal of Gay Poetry (Sibling Rivalry Press), Strange Stories Vol. 1 (Forty-Two Books, 2019), and elsewhere. Currently, Jocelyn serves on the College Art Association's Committee on Women in the Arts and is co-editing a volume on trauma-informed pedagogy with Candace Skibba (Emerald Publishing, 2022).
Huan He – Poetry
Huan He (he/him/his) is a queer Asian/American writer and gamer based in Los Angeles. He is a Ph.D. candidate in American Studies & Ethnicity at the University of Southern California. His research engages Asian/American studies, media and technology studies, visual culture, digital game studies, and poetics. He also writes poetry that explores race, sexuality, intimacy, and belonging from the perspective of a queer Chinese American raised by the prairies. His critical writing has appeared in or is forthcoming in American Quarterly, College Literature: A Journal of Critical Literary Studies, and Media-N. His poetry is forthcoming in wildness, Alaska Quarterly Review, and DIALOGIST.
George – poetry
George Abraham (they/he) is a Palestinian american poet and writer from Jacksonville, FL. Their debut collection Birthright (Button Poetry, 2020) won the Big Other Book Award, and was a finalist for the Lambda Literary Award in Bisexual Poetry. He is a board member for the Radius of Arab American Writers (RAWI), a recipient of fellowships from Kundiman and The Boston Foundation, and winner of the 2017 College Union Poetry Slam Invitational's Best Poet title. Their work has appeared in The Nation, The American Poetry Review, The Baffler, The Paris Review, Mizna, and elsewhere. A graduate of Swarthmore College and Harvard University, Abraham currently teaches at Emerson College, and will be a Litowitz MFA+MA Candidate at Northwestern University in the fall.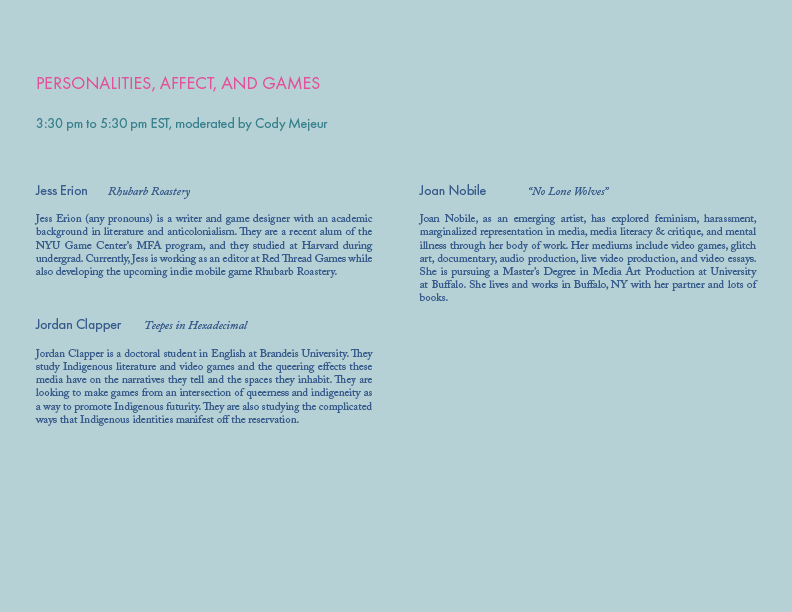 Panel two – 3:30 pm to 5:30 pm
Title: Personalities, Affect, and Games (moderated by Cody Mejeur)
| | |
| --- | --- |
| name + brief description | bio |
| jess erion – Rhubarb Roastery trailer (and maybe a bonus surprise) | Jess Erion (any pronouns) is a writer and game designer with an academic background in literature and anticolonialism. They are a recent alum of the NYU Game Center's MFA program, and they studied at Harvard during undergrad. Currently, Jess is working as an editor at Red Thread Games while also developing the upcoming indie mobile game Rhubarb Roastery. |
| Jordan Clapper – Twine game and Indigenous games research | Jordan Clapper is a doctoral student in English at Brandeis University. They study Indigenous literature and video games and the queering effects these media have on the narratives they tell and the spaces they inhabit. They are looking to make games from an intersection of queerness and indigeneity as a way to promote Indigenous futurity. They are also studying the complicated ways that Indigenous identities manifest off the reservation. |
| Joan Nobile: "No Lone Wolves", short documentary, 14:15 | Joan Nobile, as an emerging artist, has explored feminism, harassment, marginalized representation in media, media literacy & critique, and mental illness through her body of work. Her mediums include video games, glitch art, documentary, audio production, live video production, and video essays. She is pursuing a Master's Degree in Media Art Production at University at Buffalo. She lives and works in Buffalo, NY with her partner and lots of books. |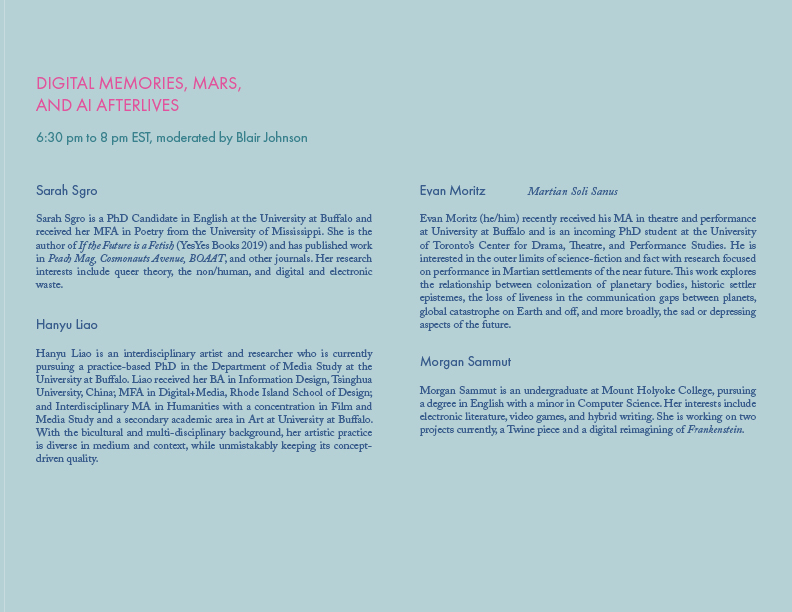 Panel three + final reception – 6:30 pm to 8:00 pm
Title: Digital Memories, Mars, and AI Afterlives (moderated by Blair Johnson)
| | |
| --- | --- |
| name + brief description | bio |
| Sarah Sgro – poetry // introducing future collaborative multimedia project | Sarah Sgro is a PhD Candidate in English at the University at Buffalo and received her MFA in Poetry from the University of Mississippi. She is the author of If the Future is a Fetish (YesYes Books 2019) and has published work in Peach Mag, Cosmonauts Avenue, BOAAT, and other journals. Her research interests include queer theory, the non/human, and digital and electronic waste. |
| Hanyu Liao – intro presentation + video | Hanyu Liao is an interdisciplinary artist and researcher who is currently pursuing a practice-based PhD in the Department of Media Study at the University at Buffalo. Liao received her BA in Information Design, Tsinghua University, China; MFA in Digital+Media, Rhode Island School of Design; and Interdisciplinary MA in Humanities with a concentration in Film and Media Study and a secondary academic area in Art at University at Buffalo. With the bicultural and multi-disciplinary background, her artistic practice is diverse in medium and context, while unmistakably keeping its concept-driven quality. |
| Evan Moritz – poetry // a live performance of a poem about the Martian Soli Sanus Project. | Evan Moritz (he/him) recently received his MA in theatre and performance at University at Buffalo and is an incoming PhD student at the University of Toronto's Center for Drama, Theatre, and Performance Studies. He is interested in the outer limits of science-fiction and fact with research focused on performance in Martian settlements of the near future. This work explores the relationship between colonization of planetary bodies, historic settler epistemes, the loss of liveness in the communication gaps between planets, global catastrophe on Earth and off, and more broadly, the sad or depressing aspects of the future. |
| Morgan Sammut – interactive fiction piece on twine based on Galatea, sff | Morgan Sammut is an undergraduate at Mount Holyoke College, pursuing a degree in English with a minor in Computer Science. Her interests include electronic literature, video games, and hybrid writing. She is working on two projects currently, a Twine piece and a digital reimagining of Frankenstein. |

As a queer feminist media lab based out of the University at Buffalo Media Study Department, the lab hosts an invited annual cohort of graduate students and independent artists and scholars of queer feminist new media arts drawn nationally and internationally. In doing so, we aim to generate artistic, scholarly, and political conversations, community, and collective possibilities for social change inside and outside academic boundaries. Please see the detailed program and fliers for further information and the framing context of our conversations this Friday.