I've arrived!
So after three car rides, two bus trips, one non-stop flight and a total of 19 hours of travel, I reached Duesseldorf yesterday morning, on Saturday, December 17th, 2016!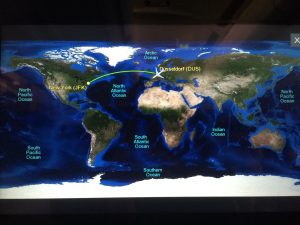 After my mom and I landed, we had to go through passport control- my least favorite part of traveling. I was really nervous about this for the past month or so because of visa requirements but it ended up being a really pleasant experience. Because my American passport allows me to enter and stay in countries within the European Union (Germany included) for up to three months without a visa, I did not come with one (even though I plan on staying for five months total). I anticipated that the passport control police would interrogate me or not let me come in (just because I mentally prepare myself for the worse for no reason sometimes) but the gentlemen I saw was the nicest guy ever! After he said hello, I told him that I would be here for five months doing an internship and that I will apply for a visa within the next three months. He smiled, said wow, stamped my passport and said have a good day! So the "hardest" part was over!
My very kind landlord picked me and my mom up from the airport shortly after, gave us a quick driving tour of the Stadtzentrum (City Center) of Duesseldorf and then let me into my cozy apartment. My mom and I then sat and had tea, coffee and cookies with him and his wife and lots of translating and switching back and forth between German and English went on during the next hour, which is always fun!
Then I unpacked my two suitcases, relaxed for a bit, got some take out pizza from this amazing Italian restaurant two minutes away by foot, did a little food shopping and just soaked it all in. It feels good to be back in one of my favorite countries in the world but I can already tell how different it is this time. I feel so much more independent and linguistically prepared than other times I've visited, but I also feel a little shocked that this is all really happening after starting this process over a year ago! Thankfully I have some time to reflect, continue learning and have some fun before the real work starts in a few weeks!
Share this: