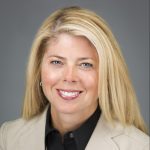 "Be flawsome!"
This was keynote speaker Erik Qualman's directive at a recent conference I attended. "Fail fast. Fail forward. Fail better," he stressed. His message is a great one, but it is easier said than done for most of us who struggle with the fear of failure on a regular basis.
As director of the UB School of Management's Career Resource Center, I see that fear in our students, without question. Our staff spends a tremendous amount of time helping students project a professional image — a perfect résumé, a polished look, a solid pitch. More than that, we hope to instill lifelong survival skills and help our students become more self-aware and resourceful, so they're ready for careers that will — more times than not — take the path of a roller coaster, not a rocket ship.
Failure ≠ brandbuster
I teach our students about the importance of building their personal brand, stressing that everyone has a brand and, if you don't know it and control it, others will form your brand identity for you. We warn students of all the ways their brand can be damaged — by social media disgrace, a bad first impression or standing out for the wrong reasons. On a daily basis, we see examples of others' failures seconds after they happen, watching on our screens along with an ever-growing audience. It is no wonder fear of failure remains deeply rooted in our psyche.
Make no mistake, however: Successfully building your personal brand does not hinge on avoiding failure. After all, countless leaders — including Walt Disney, Bill Gates and Steve Jobs — failed long before they succeeded. My favorite story is that of Abraham Lincoln, who truly failed at everything, in the military, in business and in politics — multiple times. Yet, he went on to become one of the most memorable, influential leaders in history. I usually tell Lincoln's story as I close my talk on personal branding to encourage our students to not be deterred by setbacks or let them define their brand. A personal brand can certainly transcend failure, if you choose to take charge of it and persevere.
Résumé of failures
As much as we value great stories of overcoming failure, people don't always hear them. When we look at a bio or read a résumé, only the triumphs and accomplishments are listed — not the setbacks. Johannes Haushofer, assistant professor of psychology and public affairs at Princeton University, provided a notable exception when his "CV of Failures" went viral in 2016. In it, he describes degree programs he didn't get into, research funding he didn't receive and rejections from academic journals.
"Most of what I try fails, but these failures are often invisible, while the successes are visible," Haushofer wrote. "I have noticed that this sometimes gives others the impression that most things work out for me. As a result, they are more likely to attribute their own failures to themselves, rather than the fact that the world is stochastic, applications are crapshoots and selection committees and referees have bad days." He hoped an honest portrayal of the resilience needed in his career would help others set realistic expectations for success.
Own your failure
Haushofer is not alone. Many of today's business leaders realize the importance of an honest, shared understanding of their successes — and their failures. Take hedge fund entrepreneur and Bridgewater founder Ray Dalio, who gave a TED talk discussing a scathing email he received from a junior employee, blasting him for his poor performance at a meeting.
"You deserve a D- for your performance today in the meeting," it read. "You did not prepare at all because there is no way you could have and been that disorganized." Dalio's response? He apologized, "I'm sorry I let you down," copying the Bridgewater management committee to better understand if this was a pattern he needed to correct.
As the boss, Dalio could have easily buried this criticism and lashed out against the source. But instead, he owned it and found a way to actually strengthen his brand through accountability and openness to feedback, encouraging others to give feedback like that going forward.
On a larger scale, just as there are parallels between personal branding and corporate branding, there are parallels between overcoming personal failure and corporate failure.
In a Harvard Business Review article titled "Increase your Return on Failure," Juliane Birkinshaw and Martine Haas highlight the importance for companies in extracting value by learning from every failure and sharing those lessons. The authors developed a "failure review" framework that assesses the return on failure based on the benefits, costs and bottom line of a failed project.
In the authors' 10-plus years of research and work with more than 50 companies, their results show "even when initiatives flop, they can still provide tremendous value to your organization — if you examine them carefully and capture the critical lessons." The same holds true for individuals: By doing the work to better understand what went wrong, you create resilience and a stronger approach for the future, adding value to your personal brand.
Welcome new MBAs: Failure 101
This month, we will welcome a new class of incoming MBAs to the UB School of Management. As part of my role, I will deliver a personal branding presentation during MBA Advantage, a week that pushes our new students out of their comfort zone and has historically produced many moments of failure.
As they form relationships with their new classmates and faculty, I will stress that the key to successfully building your brand is being genuine. And, as a start, I will remind them that being genuine isn't hiding their failures or blaming them on others. It could mean making a résumé of failures, encouraging others to tell you when you are performing poorly or conducting an honest "failure review."
It is a natural instinct to want to hear good things about yourself, enjoy your successes and hope that a conversation with your professor or mentor is a lengthy list of accolades. But the reality is that failure is inevitable and when it happens, it's up to you to decide what it does to your brand.
---
Gwen Appelbaum is assistant dean and director of the University at Buffalo School of Management's award-winning Career Resource Center. In addition to providing strategic oversight for the CRC, Appelbaum has created a full range of personal branding resources for the school and delivers presentations to students, alumni and professionals that convey a concise framework for personal brand awareness.