Written by: Sydney Merritt, MSA '23
Considering the MS in Accounting program at UB? This is a big decision, and I can speak from experience that there are certain things I wish I'd known ahead of time. Enrolling in the MS in Accounting (MSA) program at UB can be an incredible opportunity with the right preparation.
Below are seven things I wish I knew before I started the MSA program.
The people you surround yourself with matter a lot. The MSA program is hard work and you'll be spending a considerable number of hours with a lot of the same people once your cohort is formed. It's important to establish strong, genuine relationships with those around you. They all understand the stress of long projects and presentations, so you can have a great support system. Be patient, treat everyone with kindness, and understand there is a lot of group work, so it will take time to adjust to different working styles.
Things pick up very quickly. The first four weeks may seem slow-paced, like there isn't that much work to do, but it will pick up very soon. Enjoy the beginning of the semester, but still do your best to work ahead. This will help you manage stress later once major deadlines are due. Also, look at your schedule in two-week intervals rather than a few days at a time. Looking further out can help you avoid any surprise deadlines that may creep up.
There is A LOT of writing. It's less about accounting knowledge and more about professional communication skills. You will write more reflection papers, memos, and client letters than actual accounting work this semester. I've come to understand this program isn't so much about deepening your technical accounting skills—you should already have that from your undergraduate program—rather, the UB MSA program helps us learn how we would apply this in the real world. It'll be helpful to address this program with the perspective of a young professional prepping for the real world rather than a student learning the ins and outs of accounting.
Trying to work while in the program is difficult, but doable. Many students in the MSA program work part-time while going to school. While this can help build excellent soft skills, it's tough to work while attending a full-time graduate program. It can be hard to see everyone else going home right after class every day while you head into the office. Consider if it's worthwhile to add a part-time job to your workload while in school. If you do decide to work—whether it is out of necessity or because there's an opportunity you can't pass up—it's certainly doable. Just be sure to stay organized, remember your "why," and do your best to manage what's on your plate at all time.
Don't feel pressured to follow anyone else's CPA journey. One big advantage of the UB MSA program is you have one more year before you start working full-time to knock out the CPA exam. Some people will have already passed several sections before the school year starts, some people won't start until after graduation, there are many other timelines in between. The bottom line is: the only CPA exam timeline that matters is your own, so don't waste your time and energy comparing yourself to anyone else!
Try to keep a one-week buffer for all major deadlines. It's common for presentations and major papers to be due at the same time. Professors will try to space them out when they can, but sometimes it's unavoidable. Do your best to look at the upcoming schedule of deliverables ahead of time and complete one or two of them in advance so you can manage your time and stress levels better.
Make sure you still take time for the things you enjoy. Last, but not least, make sure you take time for yourself. This one-year program is intense and you will be very busy, but that doesn't mean your life should be put on pause. Play a sport, practice a hobby, spend time with friends and family, or have a movie night. Just do something that brings you joy. At the end of the day, school will always be there, but your health—in all its different forms—matters more.
---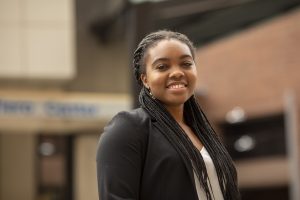 Sydney Merritt recently graduated from the University at Buffalo School of Management with a Master of Science degree in Accounting. As of this post, she is a Core Assurance Intern at PwC.