Written by: Vikram Adithya Ganesh, MS in MIS '23
Once I decided to pursue a MS MIS program over an MBA degree, I began to investigate universities that offer MS in MIS. I shortlisted universities based on three criteria: a one-year program, a curriculum with equal emphasis on both technical and management coursework, and an opportunity to work on real-world projects. Let's look at each of the factors and why I ultimately chose UB.
First, I wanted a short program duration, preferably a one-year program, as I wanted to complete my master's degree and return to the corporate world as soon as possible. The UB MIS program provided me with a formal and focused education within a year without compromising the quality of the education.
Second, I wanted a curriculum that had an equal balance between technical and management courses. The curriculum at UB is well-rounded and flexible. If you want to transition to a technical program manager position, UB offers courses like Management of IT Projects, Technology Consulting, IT Process Quality Management, and IT Risk Management. If you want to be a data analyst, courses like Database Systems, Data Warehousing, Data Visualization and Domain-Focused Analytics will suffice. If you want to be an IT security expert, you can take Information Assurance, IS Auditing, IT Risk and Cyber Security. The program allows you the flexibility to enroll in courses according to your aspirations. Also, the curriculum is diversified that it gives a competitive edge over other universities.
Finally, I wanted to gain first-hand experience by working on projects while in school. This would help me better understand the work culture in the US. UB offers coursework that is integrated with real-world projects. For instance, in the Technology Consulting course, you get the opportunity to work with a non-profit organization. This exposure helps you gain an understanding of consulting practices that take place in real life. One can get exposure to business process review, requirements gathering, and agile project planning and execution. Similarly, in Experiential IT Projects, you work in real-world projects in various roles. These two courses can be a great addition to anyone's resume.
The cherry on the cake is the amazing Career Resources Center (CRC) at the University at Buffalo School of Management. The CRC staff are committed to providing support to students regarding LinkedIn profile building, resume writing, job search techniques, mock interviews, and other activities related to career preparation to make your job hunt smoother. They frequently conduct group sessions, individual sessions, and alumni sessions providing ample opportunities to build your network.
---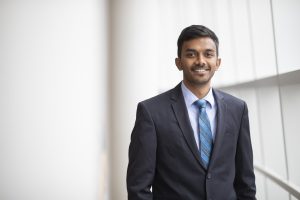 Vikram Adithya Ganesh recently graduated from the University at Buffalo School of Management with a Master of Science degree in Management Information Systems.