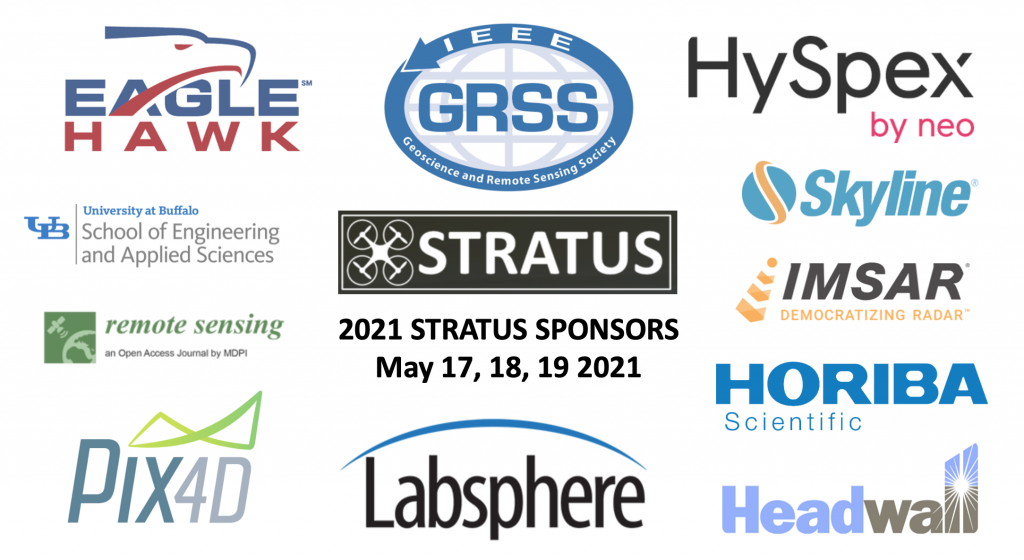 Virtual Exhibitor Hall
2021 STRATUS Virtual Exhibitor Hall (*activated during conference)
Daily sessions with 45 minutes for undivided attention (no parallel sessions). More than 30 pre-recorded talks (10-12 min. each with 5-3 min. live Q&A). Plus, more than 10 pre-recorded lighting talks (3-4 min. each). Presenters and sponsor representatives will be available during allocated time slots to engage with conference attendees and ready to connect through specially designated slack channels.
Please click on the day for the DETAILED AGENDA. Details of keynotes, virtual field trips, and sponsor exhibits will be continuously updated.
Time (EST)
Mon
May 17
Tue
May 18
Wed
May 19
8:00-8:30
Registration is open
Meet others all breakout rooms are open!
8:30-9:30
Welcome Panel
Panel Day 2
Panel Day 3
Technology Algorithms & Image Processing
9:30-10:30
Session 1
Session 5
Session 8
UAV
Platforms
R&S Applications

GeoHazards

10:30-11:30
Session 2
Session 6
Session 9
Keynotes by invited Speakers
11:30-12:30
Ken
Stewart
Peter
Webley
TBA
Lunch

Network and bring your own lunch

12:30-1:00
Meet others – all breakout rooms are open!
Virtual
Field

Trips

1:00-2:00
Lava
Pour
Drone
Swarms
Roof/Drone Cage EagleHawk

Exhibits

of our

Sponsors

2:00-3:00
Labsphere
Skyline & TBA
HySpex
Sensors & Hardware
Various
Topics
Flight Rules & Regulations
3:00-4:00
Session 3
Lightning Talks
Session 10

Environmental Monitoring & Modeling

4:00-5:00
Session 4
Session 7
Session 11
Happy Hour

Network and bring your own drinks!

5:00-6:00
Trivia
Mixer
UAV
Trivia
STRATUS
Awards
Meet others – all breakout rooms are open!
Breakout rooms will be available during breaks to interact with speakers, presenters, exhibitors, or just to take a break. Topic-focused rooms and private rooms will also be available.

Designated Slack channels will be available for continuous communication throughout the conference. Slack can also extend communication even after the conference.

Please make sure you have the latest Zoom software installed to be able to freely move between rooms in the breaks and chat with others.

Breakout rooms open after each session and during these networking periods including during registration (8:00-8:30), lunch (12:30-1:00), and happy hour (5:30-6:00).

Post-session Speaker Rooms will be available to encourage interaction between speakers of the previous session and engaged and interested attendees.

STRATUS Special Topics Rooms and additional breakout rooms will be available for individuals or group meetings.

The Helpdesk will continually be available to assist speakers and attendees as needs arise.