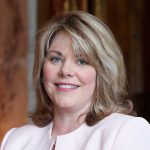 Most of my roles have had the word "Buffalo" in the title, and through my work and interests, I have tried to make Buffalo a better place. It's my passion, my mission and, lucky for me, my career.
Today, Buffalo is in a happy place, basking in the glow of our tenuous and young renaissance. Several factors positioned the region well for a rebirth, from a more diversified economy that's less reliant on manufacturing, to timing that simply worked in our favor. During the recession, for example, we fell into a smaller hole and climbed out more quickly than other cities did, in part, because young people stayed home and Canadians spent $1 billion a year in our local economy.
But these factors alone do not explain the change in the air, the sense that people believe Buffalo is coming back. It was collaboration and leadership that drove our success to date — and will bring us into the future even stronger.
Collaboration at work
In my previous role, as president and CEO of the Convention and Visitors Bureau (now known as Visit Buffalo Niagara), I had my first experience with effective collaboration. With scarce resources and a need to increase tourism dollars, we decided to bring together diverse perspectives from across the community, with the idea that smart people with the same data will come to reasonably the same conclusion. We trusted one another — and the successful Buffalo. For Real. campaign was born.
Today, as president and CEO of the Buffalo Niagara Partnership, I've seen over and over again the power of true collaboration. Through the Regional Economic Development Council, a disparate group of people — a mix of industry, leadership level, color and gender — came together to create an economic development plan for our region. It was a painful sausage-making experience, but using previous plans, community input and the expertise of organizations like the UB Regional Institute, we put forth a plan together.
And guess what? It was our plan. The earlier diverse opinions are brought to the table and incorporated, the more ownership people feel over the proposed solutions. Through our collaboration, instead of shooting at the "next plan," the community stopped arguing about what we should be doing and instead began arguing about how to do it.
Through this experience, we saw the power in a slower road of collaboration. Just giving lip service to others' opinions to gain buy-in is not enough — true collaboration requires that the individuals leading the effort fundamentally believe that diversity of thought, gender, color and expertise brings a better result.
Myths of effective collaboration
Harvard Business Review proposed a few myths of collaboration. First, some people think collaboration is a passing fad. But as the business world trends toward increased specialization and individuals need to have deep expertise, it is more important than ever to bring different lenses together through collaboration.
The second myth is that collaboration is "soft and squishy," not a scientific approach to management — but research says otherwise. According to HBR, "when more than one business unit works together to address a customer's tough problems, revenue grows almost exponentially." The more business units you bring together, the more perspectives you bring together, the better the result will be.
I would add my own myth, which is that meaningful collaboration can occur organically. In reality, effective collaboration needs support and, more importantly, strong leadership. It requires participants who are willing to put the good of the mission above their own personal gain, and leaders who understand that by checking their egos at the door to achieve the desired result, they will actually build their individual currency as a trusted leader. In many sectors, expectations of leaders are changing, and the good of the order comes first.
Collective impact
Back to Buffalo, where do we go from here? To tackle our deeply entrenched social problems, it's going to take more than collaboration. In the future, hopefully, people will be discussing how Buffalo got to the root of its problems through the power of collective impact, an innovative and structured approach to make collaboration work across government, business, philanthropy and nonprofit organizations to achieve significant and lasing social change. Collective impact is premised on the belief that no single policy, government department, organization or program can solve the increasingly complex social problems we face. John Karnia and Mark Kramer first defined collective impact in 2011, laying out five key components for participants:
A common agenda, including participants' understanding of the problem and their approach to solving it.
A consistent way to collect data and measure results for alignment and accountability.
A plan of action that outlines and coordinates mutually reinforcing activities for each participant.
Open and continuous communication to build trust, assure mutual objectives and create common motivation.
A backbone organization with a staff and specific skill set to serve the initiative and coordinate participating organizations.
Locally, we are tackling systemic issues of generational poverty, racial inequity and a shrinking workforce through collective impact and the Greater Buffalo Racial Equity Roundtable, an unprecedented effort that's bringing community leaders together to promote change and accelerate regional prosperity.
Efforts like this are the motherlode of collaboration and leadership, and if we succeed, it will change the trajectory of the city and, more important, many lives and future generations. It won't be without conflict, but these integrated efforts are worth watching. And, in the end, throughout Buffalo's renaissance, we've all seen that leadership and successful collaboration, ultimately, comes down to the individuals involved — and one person can make a profound difference.
---
Dottie Gallagher-Cohen, EMBA '07, leads the Buffalo Niagara Partnership, the area's regional chamber of commerce and privately funded economic development organization. She presented a version of this blog at "Give and Take," a conference hosted by the UB School of Management's Center for Leadership and Organizational Effectiveness.