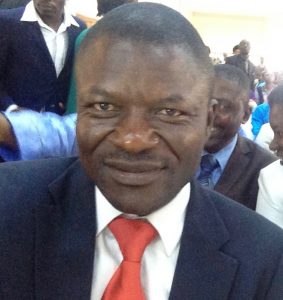 Pius W. Akumbu holds a PhD in Linguistics and is a Lecturer of Phonological Theory in the Department of Linguistics and African Languages, the University of Bamenda, Cameroon. His main interests lie in the documentation and description of endangered Grassfields Bantu languages, and in language policy and planning in Cameroon. Full CV.
Some of his major publications include A Pedagogic Grammar of Babanki: A Grassfields Language of northwestern Cameroon (co-author, 2012), and Language Policy in Africa: Perspectives for Cameroon (co-author, 2013).
KPAAM-CAM Project experience
I joined the KPAAM-CAM project in 2015 and supervised Joyce Tatang's MA thesis that was completed and defended in 2016.
Select Publications
2017. Akumbu, Pius W. & Hyman, Larry M. Nasals and low tone in Grassfields noun class prefixes. Nordic Journal of African Studies. Vol 26(1):1-13.
2016. Babanki coda consonant deletion and vowel raising: A case of allomorphy. Proceedings of the 42nd annual meeting of the Berkeley Linguistics Society, 3-20.
2015. Babanki Verb Tone. Studies in African Linguistics, 44(1), 1-26.
2014. Chiatoh, B. and Akumbu, Pius W. Enhancing English language studies in Cameroon: The mother tongue perspective. California Linguistic Notes, 39(1), 23-47.
2011. Tone in Kejom (Babanki) associative constructions. Journal of West African Languages, 38(1), 69-88.
2007. Chumbow, Beban. S., Akumbu, Pius W. Upstep of low tone in Njem and Register Tier Theory. Journal of West African Languages, 34(1), 39-53.
Books
2013. Akumbu, Pius W., Chiatoh, Blasius. (eds.). Language policy in Africa: Perspectives for Cameroon. Kansas City: Miraclaire Academic Publications, 228pp.
2012. Akumbu, Pius W., Chibaka, Evelyn. A pedagogic grammar of Babanki – a Grassfields language of northwest Cameroon. Köln: Rüdiger Köppe Verlag, 208pp.