Written by: Nandini Mehta, MS in MIS '23
"The best way to predict the future is to create it." —Abraham Lincoln

A few days ago, someone asked me, "What were your thoughts behind entering into the management school when you were organically entering into a similar profile while still working in India?"
I had my answer ready and I said, "I wanted to learn the craft! Moreover, there can never be a good or bad time to learn, it is an ongoing process as we learn every day that we live and breathe."

That conversation ended with a lot of discussion on the current market state: how companies are reducing hiring new talent, how economies of the world are affected due to global political unrest and its effect on the IT sector, etc. That conversation had me thinking and I was thinking hard.

Such transitional decisions should not come out of the hunger for professional growth, monetary reasoning or because someone else did that; rather they should be made after analyzing where you want to be and how you envision your personal career growth.
As an experienced, working professional, my criteria for choosing a graduate program were straight and simple:
Learning
Program length
Leverage my experience
Good and valued university
Not a burden to my or my family's financial well being
During my research, the option that stood out to me was the University at Buffalo because for these reasons:
Reputed University – over 177 years old
Short-term program – less than a year (seriously!)
Great set of electives – to decide on my career path and match my existing experience
Competitive fee structure – a great value that I can afford
Valued faculty members – industry professionals during the day and professors in the evening
Not just the serious stuff, but life at UB is very warm and full of life. More reasons to choose this university because of the things that I think set UB apart:
Student Union – every day you can spot an event happening at the Student Union that celebrates and enlightens students.
Clubs and communities – pushing students to explore new things or hone their skills per their interests
International Students Services – guiding international students, organizes festivities and celebrations. You will miss family but not the vibe.
Career Resource Center – a notch above all others
For me, these were convincing enough reasons to push myself out of my comfort zone (mind you, I worked for almost 11 years in India) and jump back into the world of academia.
---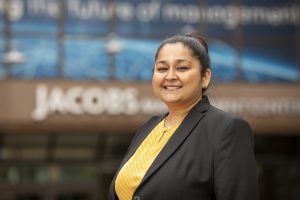 Nandini Mehta recently graduated from the University at Buffalo School of Management with a Master of Science degree in Management Information Systems. As of this post, she is working as a Business Development Consultant at Favordrop.