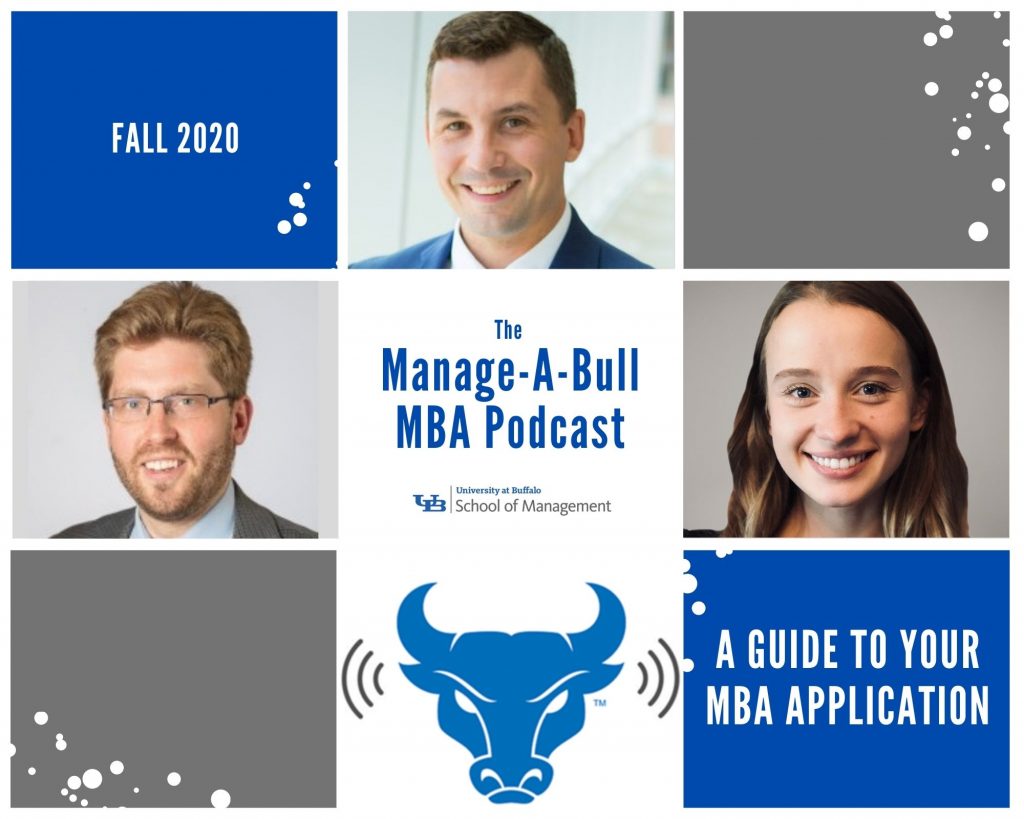 Host: Anders T. Rosen
Roundtable Guests: Brittany Czodli and Aaron Shaw
Listen to the podcast on Apple / Google / Stitcher.
The School of Management's career advisors in the Career Resource Center often share why it's important to begin your journey with the end in mind. The final episode of the Manage-A-Bull Podcast's Fall 2020 season closes out with that advice flipped—by ending the semester with the beginning of the application process front and center! This episode provides some application tips and tricks for listeners. Podcast host, Anders Rosen, chats with first-year MBA student, Brittany Czodli, and Assistant Director of Recruitment, Aaron Shaw, about prospective student FAQs, what to expect in the MBA application process, and where the MBA degree can take you. As 2021 approaches, there's no better time to begin planning for your future.
First-year student and MBA ambassador Brittany Czodli takes listeners on her MBA application journey. An Orchard Park, NY native, Brittany came to the UB MBA program after two years working in advertising and marketing. She earned a bachelor's degree in Marketing and minored in Interactive Media at Ohio's Miami University. In addition to her role as MBA Ambassador, she is involved in many activities on campus, including LeaderCORE and the Diversity and Inclusion Committee. She provides mentorship and support to first-generation students looking for guidance on college life.
A recruiting career started for Aaron Shaw after he completed his second full tour in the U.S. Marine Corps in Iraq. Before coming to UB, he spent more than three years in Marine Corps Recruiting, primarily based in the Rochester, NY-area. Today, he works as the assistant director of recruiting at the UB School of Management. In fact, Aaron was the first person to meet with podcast host, Anders, when he was first seeking more information about the UB MBA program! Aaron also gives support to veterans seeking to transition from military service to civilian life, and brings a deep understanding and commitment to the word: service.
>> Listen to the podcast on Apple / Google / Stitcher.
>> Register to attend the January 19 UB MBA Virtual Scholarship Reception to connect with current students and learn more about the UB programs.
>> R3 deadline to apply for fall 2021 is February 1. This is also the final deadline for international applicants.