Written by: Anchal Sodhi, MS in MIS '23
Are you a graduate student looking for a peaceful place to call home, away from the hustle and bustle? Look no further than Buffalo, New York. As someone who loves peace, quiet and a slower pace, I found exactly what I was looking for in Buffalo.
Buffalo is a city that is often overlooked, but it has a charm that is hard to resist. One thing I love about living in Buffalo is its proximity to so many different towns. In less than an hour's drive, I can be in Niagara Falls, Rochester or even Toronto, Canada. This opens a world of possibilities for weekend getaways and exploring new places.
But it's not just the location that makes Buffalo a great place to live. The city itself has a rich history, a vibrant arts scene, and unique architecture. As someone who loves history and exploring new places, Buffalo is a dream come true. Every street seems to have a story to tell, from the historic mansions in the Elmwood Village to the beautiful parks like Delaware Park and Niagara Square.
Another thing that sets Buffalo apart from other cities is the sense of community. People here are friendly and welcoming, and there is a strong sense of pride in being a Buffalonian. From the annual Buffalo Wing Festival to the world-renowned Buffalo Philharmonic Orchestra, there is always something happening in this city. And yet, it never feels overwhelming or crowded like some larger cities can.
Living in Buffalo also means being close to nature. Just a short drive away you can find yourself in the middle of beautiful parks and nature preserves. Whether it's hiking the trails at Letchworth State Park, kayaking at Beaver Island State Park or simply enjoying a picnic at Chestnut Ridge Park, there is no shortage of natural beauty to be found.
But what I love most about living in Buffalo is the peace and quiet. As someone who enjoys a more laid-back lifestyle, Buffalo provides the perfect balance of city amenities and small-town charm. I love taking walks through my neighborhood where the streets are lined with beautiful trees and historic homes. And on quiet afternoons, I can often be found reading a book in one of the many parks that dot the city.
Living in Buffalo also means dealing with its infamous winters. As someone who grew up in a warmer climate, the snow and cold took some getting used to. With the right clothing and a positive attitude, I've learned to appreciate the beauty of a snowy day. And when the winter blues do start to set in, there are plenty of cozy coffee shops and indoor activities to enjoy.
All in all, living in Buffalo has been a wonderful experience. As a graduate student, it's the perfect place to focus on my studies while also enjoying a peaceful and fulfilling life outside of school. I feel lucky to call this city my home, and I know that there is always more to discover and explore. If you're looking for a place to live that embraces quiet, small-town charm while still having the excitement of city life, then Buffalo just might be the perfect place for you.
---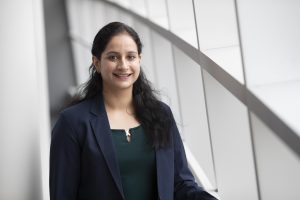 Anchal Sodhi recently graduated from the University at Buffalo School of Management with a Master of Science degree in Management Information Systems. As of this post, she has an apprenticeship with SchoolMate as a product manager.