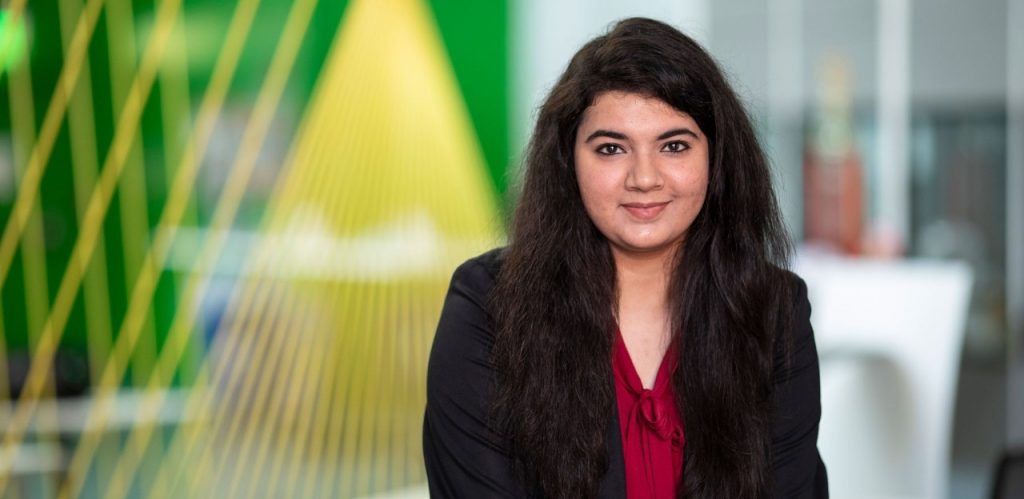 In an experiential learning course, School of Management MIS students solve real-world challenges using new technology
By Matthew Biddle
Anubha Singh, MS '20, has long been passionate about working with data and cloud technologies.
Now, after completing the UB School of Management's "Experiential IT Projects" course and earning her Master of Science in Management Information Systems (MIS), she is more certain than ever of her career direction.
In the "Experiential IT Projects" course, students apply the skills they gain in their other coursework to develop a solution to a business problem facing a local company. Using the agile method, students work in teams to meet with the company, brainstorm and evaluate multiple solutions before ultimately implementing and presenting one of them for company leaders.
This spring, Singh and her team worked with Nissha Medical Technologies, a global designer and manufacturer of medical devices headquartered in Buffalo. The team was tasked with identifying gaps in the company's order, supply chain and sales management processes, and developing reports and dashboards to help Nissha better forecast sales, revenue and other metrics.
"Since the company has been operating for years, the data we were working on was huge and often difficult to comprehend and align with the requirements," Singh says. "But through the three months of this project, I became so much better at analyzing real-time data and leveraging all my skills to help a business make accurate decisions."
When the coronavirus pandemic hit Western New York in mid-March, Nissha kept operating as an essential business and demand surged for its medical products—showing clearly, for the team, the company's key role in equipping hospitals with critical devices, as well as the importance of data in helping it do so efficiently.
After the team shifted its work and daily meetings to remote platforms, they completed several deliverables using Tableau software, including reports showing profit, budget and sales by division, and visualizations of open and back orders to predict monthly sales and deliveries.
"This was truly an enriching experience for all of us. It helped me hone my existing skill set, exposed me to new technologies and overall made me a better professional," Singh says.
Joseph Logan, director of IT at Nissha Medical Technologies, says the students brought a strong work ethic and novel perspective to the project, which the company will be executing in its processes.
"Knowledge is the ultimate differentiator," Logan says. "Understanding our future sales drives pretty much everything we do, including our staffing and how much we're going to invest in various product lines. Being able to use predictive analytics to forecast our sales more accurately is a tide that will lift all boats for the company."
"Our students gain the tools to implement projects and be multifaceted assets for companies who can run a database, manage a project and manage the cash—basically, they're ninja consultants. "

Sam Marrazzo, Co-instructor and Chief innovation Officer, Buffalo Niagara Medical Campus
De-risking technology
For every project in the class, School of Management MIS students leverage new technologies to help companies overcome challenges. This semester, one team working with Rich Products devised a solution within the TIBCO platform to identify equipment defects earlier. Other teams worked with ACV Auctions on information security issues and assisted a startup on an app that would provide users with health care reminders through Google Home or Amazon's Alexa. For Third Wave Real Estate, a team created a program to screen for potential homeowners who've previously been through foreclosure.
"This isn't a typical class—our students are consultants, with no one standing over their shoulders," says Sam Marrazzo, EMBA '14, chief innovation officer for the Buffalo Niagara Medical Campus. Marrazzo co-instructs the class with Pavankumar Mulgund, MS '14, PhD '20, clinical assistant professor of management science and systems in the UB School of Management.
"Through this class, we prepare students for leadership roles, teaching them how to think through problems and deal with confrontation," Marrazzo continues. "Our students gain the tools to implement projects and be multifaceted assets for companies who can run a database, manage a project and manage the cash—basically, they're ninja consultants."
Telemedicine in a crisis
Daniel Rifkin, MD, medical director for Sleep Medicine Centers of WNY, has been trying for years to incorporate telemedicine into his practice. Now, thanks to a collaborative team that included MIS students in the "Experiential IT Projects" class, he has successfully launched Ognomy, an app that allows him and other sleep medicine physicians to diagnose and treat patients remotely.
Ognomy went live in April amid the COVID crisis, and Rifkin says the students were critical in helping it reach the finish line. In a previous semester, one student team developed use cases to describe the functionality of every page in the application in minute detail. This spring, one group of students became certified in Amazon Web Services and helped develop the app's architecture. Another team took a deep dive into HIPPA compliance to help ensure the app followed privacy regulations.
"The app has been a way to treat patients that's a lot quicker and less expensive, and couldn't have come at a better time," Rifkin says. "There are a lot of intricacies to the application, and the students were very involved with it. It was a great experience working with them and getting to know them—in fact, two students came to my house last fall for their first American Thanksgiving."
Mulgund says the class's experiential learning projects prepare students for the business world and even sometimes lead to internship or employment offers.
"The class makes students comfortable with ambiguity and real-world challenges, like communication delays," Mulgund says. "And sometimes the executives learn along with their team, as the students build solutions they didn't expect or with technology they're less familiar with."