Where are the best places to study? Just in time for Reading Days and exams, Danielle Hockwater reveals her Top 5 favorite secret and not so secret (anymore) spots on campus.
1. Alfiero Breakout Rooms
On the third floor of Alfiero Center, you'll find rooms reserved for current School of Management students. These rooms are for group work and cohort meetings. Bring your own cables if you want to use the monitors.
Link to schedule a breakout room:
https://mgt2.buffalo.edu/apps/mgtrooms/login.cfm
2. Charles B. Sears Library
The law library on North Campus that all students are welcome to study in. The best part about the law library is that it's so silent that you can hear a pin drop.
Two floors and very beautiful. Easy access to food on the second floor of O'Brian Hall.
3. Capen Study Rooms. Silverman Library.
Private. There is a glass wall and door so that you can block out the outside noise.
Comfortable. These rooms are brand new, clean and modern.
Group Work. This is a great study space for group projects.
Link to book a Capen Study Room:
https://booking.lib.buffalo.edu/reserve/silverman
4. Lockwood Basement
The Lockwood Library has a basement that most students do not know exists. It is usually quiet and secluded. There are big and small tables to work alone or with a team.
Short Walk. The Lockwood Library is a short distance from the School of Management
Hidden. Many students do not know it exists.
Accessible. Do not need to prebook to study in this spot.
Big Tables. Big tables to spread out or use for group work.
5. Graduate Lounge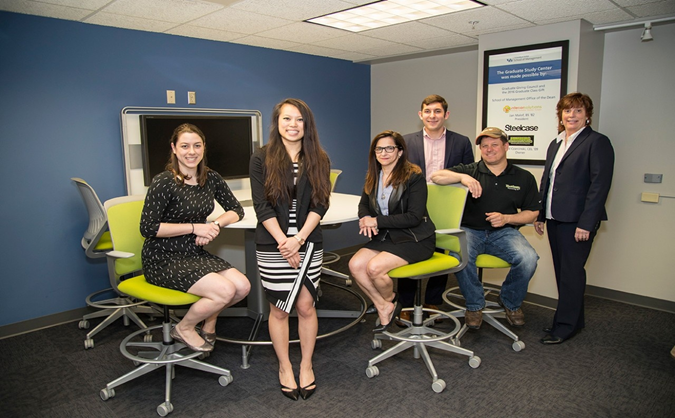 On the second floor of Alfiero Center, this lounge is specifically for us! Although it may get loud in here, it is the perfect place to hang around if you have homework questions your fellow classmates may be able to answer.