Dinner & Wine Pairing – Saturday, February 1st 6:00 PM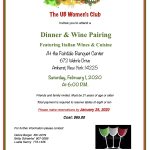 Print these two files to see all the details and to make your reservation.
Dinner and Wine Reservation Form
Reservation deadline is January 25, 2020.
New members are welcome all year long. Please click here to join.
UB Women's Club
©2019 University at Buffalo. All rights reserved.