New members are welcome all year long. Please click here to join.
The Fall Luncheon will be on Saturday, September 15th at Transit Valley Country Club
at 11:00 AM.  $32.00 per person.
Please click here to print the Fall Lunch details, and send in the RSVP portion with your check.
The International Feast – Greece, will be on Sunday, October 14th this year.  Please Print this form  and send it in with your check.  Guests are welcome to join us.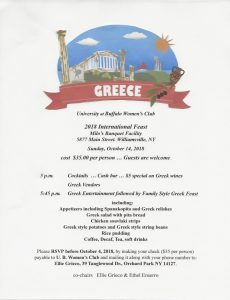 Click UBWC Greece Flyer for a download to print out.
Some photos from our trip to the Middlefield, Ohio Amish Community. Click on an image and scroll through all photos to see full size.
UB Women's Club
©2018 University at Buffalo. All rights reserved.