Sherry Chemler was born in Chicago Illinois. She obtained her BA in Chemistry from Boston University and her PhD in Chemistry from Indiana University (with Bill Roush). Following an NIH-sponsored postdoc at Memorial Sloan-Kettering Cancer Institute (with Sam Danishefsky), she began her career at UB in 2002. Sherry was promoted to Full Professor in 2013. She was named a Cope Scholar in 2017, a UB Exceptional Scholar (Sustained Achievement) in 2018, and a SUNY Chancellor's awardee for Excellence in Scholarship and Creative Activities in 2023. Sherry is on the Editorial Board of Science Advances (AAAS) and served on the Advisory Board of Organic Letters (ACS) from 2011-2022.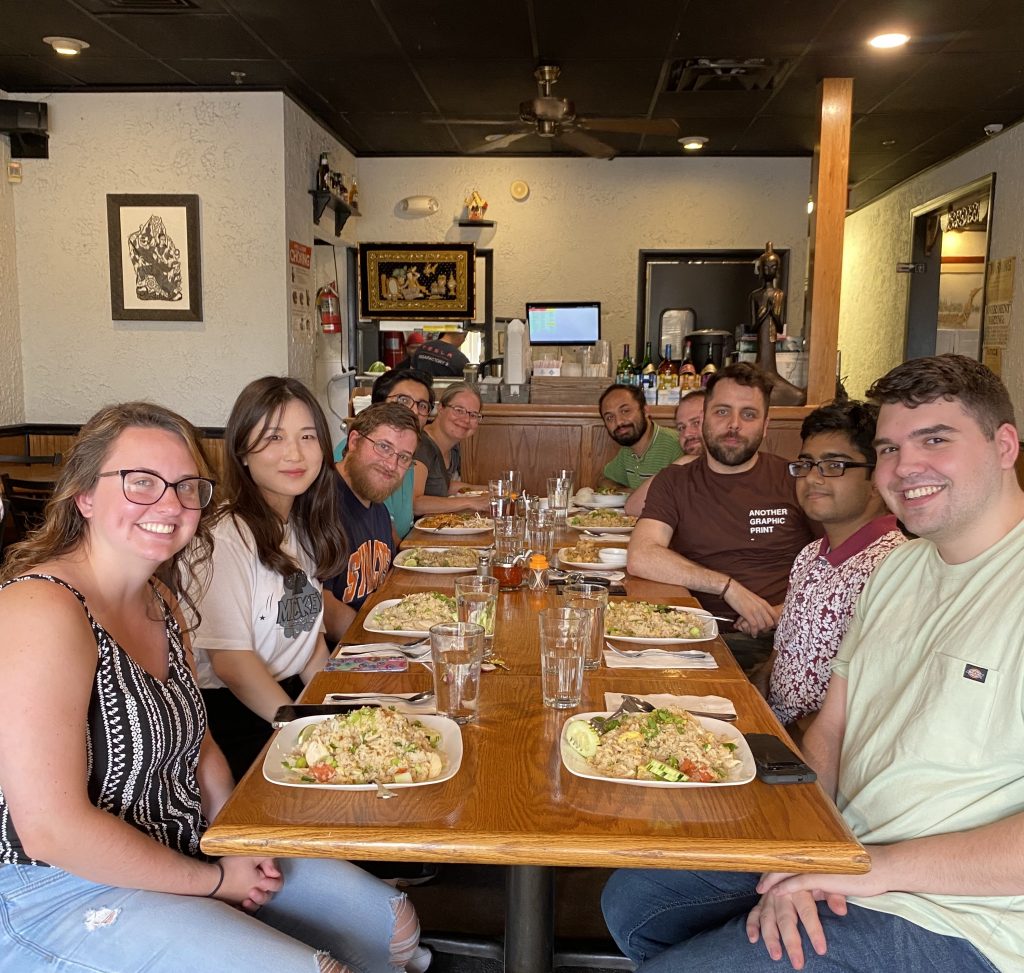 Current Students:
Raul Carmo (5th year graduate student)
Aniruddha Marathe (1st year graduate student)
Atinuke Abanikanda (1st year graduate student)
Alexis Kelleher (2nd year graduate student)
Chaeeon (Jenny) Song (2nd year graduate student)
Joseph Fose (1st year graduate student)
Erika Rizzo (UB undergraduate, chemistry)
Alumni
Luke Davison (MS 2022) current: Research Scientist I, Nitto Avecia, Milford, MA; former QC Chemist I, Cambrex, Iowa
Jonathan Kennedy-Ellis (PhD 2022) Scientist I, Electrosyn
Ameya Burde (PhD 2022) Postdoc, U. Michigan
Sam Galster (PhD 2021) current: Patent Reviewer, USPTO; former: Postdoc University of North Carolina Pharmacy
Dake Chen (PhD 2020) Research Scientist, Hansoh Bio
Ilyas Berhane (PhD 2020) Clarivate Consulting
Steele Burgeson (MS, 2020) SI Group, Inc, Albany NY)
Tomasz Wdowik (PhD 2019) Postdoc with Gryko group, University of Warsaw, Poland
Jonathan Shikora (PhD 2019) Research Scientist position): Jordi Labs
Um Chanchamnan (PhD 2018) lecturer, Paragon University, Cambodia
Zainab Khoder (PhD 2018) Visiting Assistant Professor, Medaille University
Erik Boldt (MS, 2017) Honeywell
Shukelundu Karyakarte (PhD 2016) Research Scientist, Southern Research University
Barbara Casavant (PhD 2017) Lecturer, SUNY Genneseo
Surui Hou (BS/MS, 2015) Ph.D. student, UB, Bioinformatics
Samuel Ziebel (MS 2015) high school science teacher, Nativity of Our Lord, Buffalo
Timothy Liwosz (PhD 2014) Lecturer at University at Buffalo SUNY
Mike Bovino (PhD 2014) Professional Chemistry Tutor LLC
Ben Turnpenny (PhD 2014) Lecturer, SUNY Binghamton
Fatima Sequeira (PhD 2012) Reviewer, FDA
David Copeland (MA, 2012) engineering
Monissa Paderes (PhD 2012) Assistant Professor, University of Philippines Institute of Chemistry
Kiante Hyman (MS 2011)
Azade Hosseini (B.S./M.S. 2011) PhD, Boston College, then scientist, Neon Therapeutics
Peter Fuller (PhD 2009) Merck, Medicinal Chemistry, Boston (Director, Discovery)
Eric Sherman (PhD 2009) Patent Lawyer, DC area (Hahn and Associates)
Imranul Haque (B.S./M.S. 2009) CPA, PwC
Jin Woo Kim (M.S. 2008) PhD Program, SUNY Stonybrook Medicinal Chemistry
Thomas Zabawa (PhD 2007) Director, Chemistry & Manufacturing, Hepion Pharmaceuticals
Maria Manzoni (PhD 2006) Reviewer for The US Food and Drug Administration (FDA)
Nadine James (MS 2006) Ph.D. from Roswell Park Cancer Institute then President and CEO, Illuminxation
Visiting Professor
Dr. Ta-Hsein Chuang 2013-2014 China Medical University, Taiwan
Postdoctoral Associates
Dr. Lei Miao (Ph.D. from U. New Orleans) 2009-2011 Research Scientist, Adesis, Inc.
Dr. Wei Zeng (Ph.D. in organic chemistry, Suchuan University, China) 2006-2008 Professor, South China University of Technology (SCUT)
Dr. Dhanalakshmi Kasi (Ph.D. in organic chemistry, Indian Institute of Technology) 2004-2005 Reviewer, FD
Dr. Derick Lucey (Ph.D. in inorganic chemistry, University at Buffalo) 2002-2003 Research Scientist, Alcoa Industries, New York
Dr. Yan Miller (Ph.D. from U. Rochester) 2011-2013 Research Scientist, Chevron, CA
Former Undergraduate Researchers (+denotes co-author)
Christopher Tucciarone (UB undergraduate, chemistry, expected BS 2025)
Zahra Husseini (UB undergraduate, biology, CSTEP program, expected BS 2024)
Jaffer Sayeed (UB undergraduate, biomedical sciences, expected BS 2024)
Buiya Faisal (UB undergraduate, chemical engineering, expected BS 2025)
Ralph Januale (BS 2023), UB Pharm. D. Program, School of Pharmacy     
Chaeeon (Jenny) Song (BS 2021) UB Medicinal Chemistry PhD Program
Stephen Carro (BS, 2019) PhD program, Microbiology, UPenn
Fatima Sequeira+ (BS, 2017), ACS Summer Scholar, PhD, UB Chemistry, Reviewer, FDA
Rasheen Powell (BS, 2015) PhD, UB Pharmacology, Postdoc, Boston Children's Hospital (UB CSTEP summer student)
Scott Wudarski (BS, 2015) Chemistry PhD program, U. Pitt.
Shawn Dormann (BS, 2016) Chemistry PhD program, Syracuse University
Sol Lederman Student Research Award, summer, 2015
Josiah Matthew+ (NSF REU student, 2014), UB chemistry Ph.D. program (deceased)
Marina Ferreira+ (Brazilian Internship/summer Fellowship 2014)
Guoqing Huang+ (BS, 2014)
John Schneible (BS, 2014) PhD, NC State technical advisor AGG LLC
Ben Detty (BS, 2014) Chemist, Plesh Contract Packaging
Christina Wong+ (BS, 2014) MS Medicinal Chemistry, University of Kansas, Research Associate II, Array Biopharma
Keith Dolcy (BS, 2013) (UB CSTEP Summer Undergraduate Research Program), UB PharmD, UNC Postdoc
Garrick Zebrig (BS, 2012)
Marat Mitelman (BS, 2012), MD, St. George University
Albert Ikramov (BS, 2012)
Nicole Kendal+ (BS, 2012) MD, Ohio State
Thom Smith+ (BS, 2011) U. Wisconsin PhD program, National Organic Symposium Undergraduate Travel Award 2011
Matt Freitag (BS, 2011)
Peter Bloomingdale (BS, 2011)
Anthony Chipre*+ (BS, 2011), Chemistry PhD, Northwestern U.
Susan Flynn (BS, 2010) PhD, Syracuse University, Research Assistant Prof. Binghamton U.
Eugene Thalmann (BS, 2010) Nutritional Consultant
Daniel Saada (BS, 2010) MD, Georgetown University
Nami Ji (BS, 2009) Chemistry PhD, Texas A&M
Weng Siong Tham+ (BS, 2009) Recipient, National Organic Symposium Travel Award 2009
Graduate student, chemistry at U. Mich.
Mark Kryman (NSF REU 2009), PhD UB Chemistry, Senior Scientist Ortho Clinical Diagnostics
Phung Tang (BS, 2008), Albany Molecular
Henning Behkin (NSF REU, 2007), BS University of Hamburg
Dov Shalmon (summer 2006, BS Nortwestern U.)
Melantha Jackson* (NSF REU 2006)
Justin Howard (BS, 2007) Peter Lansbury Summer Research Award,Safety-Kleen, Buffalo, NY
Lok Lok Liu (UB, 2006), SUNY University Scholar, Ph.D. in Chemistry, University of Hong Kong
David Goldberger (BS, 2006) Medical School, UB
Thomas Hayes (BS, 2005), PhD, Chemistry, Washington State University, postdoc UC Berkeley
Dong Bin Kim (BS, 2005) Medical School
Brian Williams (BS, 2005) •Precision Ballance, Buffalo area
Shanna Sessler (BS 2008) •Double major, chemistry and engineering, 2005 REU participant at University of Colorado, self-employed
Taqueena Hall* (BS, 2005) MHSA, George Washington U. Medical Records Coordinator
Joseph King (UB NSF REU student, 2005) Carmeuse Lime and Stone, Alabama
Kelly Harris (BS, 2005) Medical School
Tai Boon Tan (BS, 2004) PhD, UB Chemical Engineering, General Physics Corporation
Nisha Perez (BS, 2004) Scientist, Blueprint Medicines
Caitlin Hubbard Karver (BS, 2003), PhD, U. Southern California Associate Professor, DePaul University Medicinal Chemistry, Chicago, IL.
Joseph Chemler (summer 2002) Ph.D. Chemical Engineering, University at Buffalo, NIH postdoctoral fellow, David Sherman, U. Mich., Lead Scientist, Kalsec, Inc.