Written by: Steffy Suresh Thampy, MS in MIS '23
At UB, there are many events hosted by different associations and clubs for its students. Here are some of the fun events I have participated in that helped me expand my network and get out of my comfort zone.
International Student Services hosts trips to Niagara Falls and Letchworth State Park at a minimal cost to explore Western New York. I had fun seeing these spectacular parks with my friends while making some new friends along the way. Letchworth State Park is a magnificent place you must visit in autumn to enjoy the fall colors and take pictures of the beautiful leaves.  
UB hosts wellness and engaging activities, such as yoga, Zumba, and various forms of dance. Once a week, I participate in yoga for an hour which helps me relax. The yoga instructor helps me focus on meditation, breathing and guides us with poses to make us mindful of our bodies. On other days, I go to  Clark Hall on South Campus or Alumni Arena on North Campus to the gym. It also has a pool, dance studio, and handball courts. It's a good way to make time for yourself, work out, or play a sport with your friends. 
Festivals and holidays around the world are celebrated by different associations at UB. For Halloween, clubs and organizations organize a trip to pumpkin farms and for ghost hunting. During these events, you get to meet a lot of people, and there is dance, music and food to enjoy.
As a UB School of Management student, we also get to attend the 43North Competition, organized by Blackstone Launchpad, where startups from across the country pitch their start-up ideas. Last year, five companies won $1 million dollars! It was a great learning experience as we could see a lot of new ideas being presented in 3-minute pitches. It was wonderful to see how the "pain points" of customers are taken into consideration while creating a product, the strategy to build products and the challenges with competitors.  
These are the activities I have explored at UB so far. I've had a lot of fun trying new activities, seeing beautiful parts of Western New York and meeting new people.
---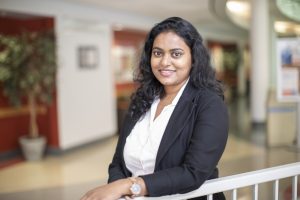 Steffy Suresh Thampy recently graduated from the University at Buffalo School of Management with a Master of Science degree in Management Information Systems.