Written by: Justin Zulewski, MSA '23
Throughout my time at the University at Buffalo, I've been fortunate enough to be involved in two different accounting internships: one as an internal auditor intern and one as an external auditor intern. These internships provided me with invaluable experiences and have also helped shape my career path as I prepare to graduate and begin a full-time job.
During junior year of my undergraduate studies, I was encouraged to seek out and apply for internships. Like many of my peers, I had no idea what type of internship I wanted so I applied to a variety of different positions on UB's Bizlink website.
Eventually, I accepted an internship offer with a private company in their internal audit department. At the time, I knew very little about the role of internal audit at companies, but I viewed the internship as an opportunity to see if working in internal audit was something I would want to do in my career.
I ended up working as an internal auditor intern for about 10 months where I gained technical knowledge related to internal audit and the accounting profession. In addition, I learned that I prefer to work in-person vs. remotely.
Due to COVID-19, the company worked remotely for most of my time at the internship. I found that while it can be convenient to work from home, it can be difficult to communicate with co-workers and learn how to perform tasks without direct supervision. My supervisors and co-workers tried to be as accessible as possible and help make the best out of an unfavorable situation, but I couldn't help but feel that my learning was hindered from working remotely. This has been a hot topic for many companies post pandemic, but I firmly believe that the benefits of working in person outweigh the benefits of working from home.
I really enjoyed working as an internal audit intern and would be open to working in an internal audit department in the future, but I wanted to try another accounting position for my second internship. I decided to try an internship in external audit at a regional firm during the summer after senior year.
I had already enrolled in the Master of Science Accounting program for the following semester with hopes of becoming a Certified Public Accountant (CPA). Even though I had enjoyed working in internal audit, I thought working in external audit was best for me. (It was also traditional for aspiring CPAs to start off as an external auditor.)
I'm still interning as an external auditor at the same regional firm and currently, I have signed an offer letter for a full-time position in the fall of 2023. The internship is fully in-person, so I believe I'm getting the most out of my internship experience as I'm able to connect with co-workers more comfortably and efficiently whenever I have any questions. More importantly, I've really enjoyed working as an external audit intern and could see myself working in this industry for an extended period.
My internships allowed me to learn what preferences I have regarding different positions and work situations that I otherwise would not have known about myself. I learned the value of working in the office opposed to working from home which I wouldn't have known of if not for experiencing the two conflicting situations at each internship. Additionally, I learned key technical knowledge at both internships, but I also found that I would be open to working in either internal or external audit later in my career.
---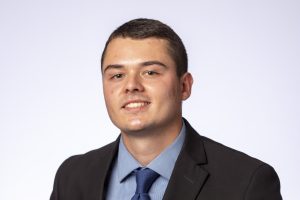 Justin Zulewski recently graduated from the University at Buffalo School of Management with a Master of Science degree in Accounting. As of this post, he is working as an intern at EFPR Group LLP.