Each year, the UB School of Management's full-time MBA program hosts a two-week winter study trip to China, where students learn about Chinese culture and business. This is accomplished through pre-trip classroom learning and engaging site-visits to companies in Beijing, Shanghai, Hong Kong and Shenzhen. Students gain insights into the history, culture and business environment of China and other regions in the course and then have the opportunity to see the situation "on the ground" during the trip.
This time last year, I knew nothing about China. Well, okay. Not nothing – but, very little. So, when I heard about the information session for the MBA program's winter study trip to China, I decided to go and see what it was all about. By the end of the session I knew I needed to go on the trip.
Preparing for the trip: MGO 695 – International Management
Before the trip to China, #UBMBA students are required to register for a one-credit course, MGO 695: International Business Strategy: The China Challenge. The five-week class was a "crash course" on all things China taught by Dr. John Thomas.
We started by learning about Chinese culture and history, and then focused much of our time on doing business in China. We learned about the major strategic and practical issues in creating and managing successful business transactions in China. We learned that China is well on its way to becoming the largest world economy with a huge growing middle class, and how that affects business around the world.
A big part of the class was the opportunity to research and present in groups about the companies we were going to be visiting on our trip. The presentations provided a lot of insight on the companies we were going to visit, and equipped me with the knowledge to be able to participate in discussion during our site visits.
My favorite part of the course, however, was the opportunity to go for an authentic Chinese meal in Buffalo. I'm pretty sure we saw crazier food at this meal than we did in China!
Beijing: The Great Wall, the Forbidden City, and engaging site visits
It was early January when fourteen #UBMBA students stepped off an airplane into the Beijing airport. Despite 20 straight hours of traveling, we were all filled with excitement. We made it to China!
During ou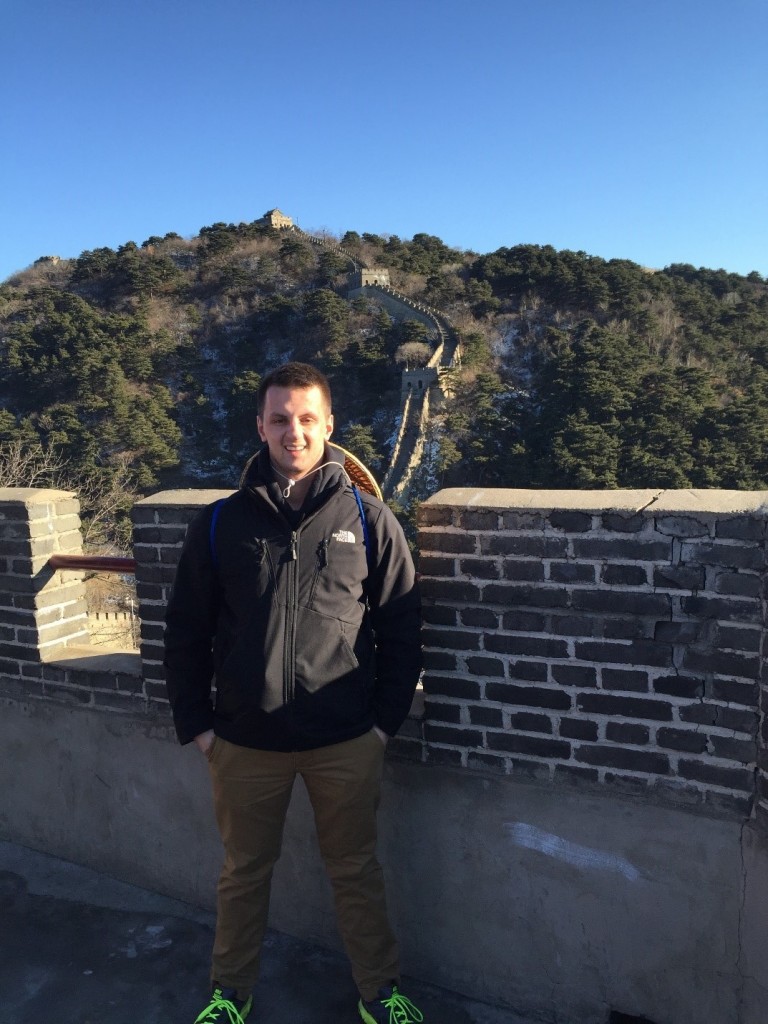 r four days in Beijing, we had guided tours of the Great Wall of China, Tiananmen Square and the Forbidden City, along with free time to explore the city. My favorite place we visited was the Great Wall. The views were breathtaking!
We also visited three companies in Beijing:
China National Petroleum Company (CNPC)
Baidu (what many call "The Google of China"—which was founded by a UB graduate!)
At these stops and all of the site visits throughout the trip, we met with executive-level connections to the University at Buffalo. We spent a few hours at each site learning more about each business and having the opportunity to ask about what it is like to do business in China.
Our time ended with a UB alumni reception, where we had the opportunity to network with alumni who now live and work in Beijing. We also attended UB alumni receptions in Shanghai and Hong Kong. It was truly amazing to see how many active, successful, UB alumni live and work in China.
Other highlights of Beijing included socializing with my classmates on the Great Wall, walking through the night market and seeing the craziest street food, and visiting a jade factory!
Shanghai: The Bund, exploring the city, and karaoke fun
We took a high-speed train from Beijing to Shanghai, which was quite the experience. Traveling at approximately 200 mph, we arrived in Shanghai in about 5 hours.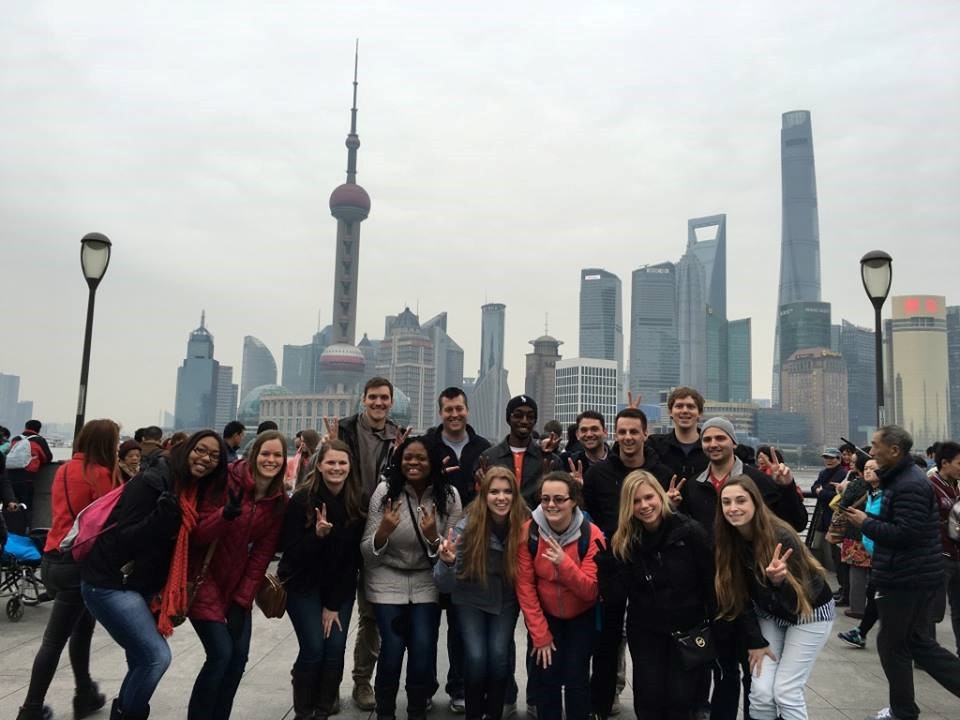 We spent four days in Shanghai. In such a short of time, we did a lot. We took a guided tour of the city, visited a Buddhist temple, a popular market and the Bund (a boardwalk with an incredible view of the cityscape).
We also had some scheduled site visits in Shanghai:
Shanghai had a very similar look and feel to New York City. With plenty of places to eat, shop and have fun, our group spent every second of free time enjoying all the city had to offer. My favorite parts were  singing karaoke until 2 a.m., visiting an Americanized night club with an incredible view of the city, and eating at Pizza Hut (which was a two-story, sit down experience).
Hong Kong and Shenzhen: Breathtaking views, free day for exploring and Peking Duck
We flew from Shanghai to Hong Kong and were very surprised to see how gorgeous Hong Kong is. It looked and felt like New York City in Hawaii. There were mountains and water everywhere, and skyscrapers in the middle of it all.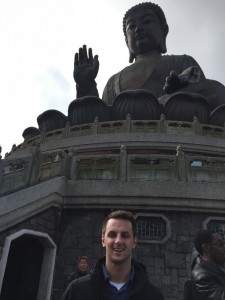 We toured Hong Kong by bus during our stay and had the opportunity see incredible views that overlooked the entire city. In Hong Kong we visited three companies:
We also traveled to mainland China and visited the largest telecommunications company in the world, Huawei. I particularly enjoyed this site visit, because we saw some amazing upcoming technology and heard about Huawei's vision to bring it into the world.
Our last day in Hong Kong (and of the trip), was a free day. We could spend it any way we wished. I decided to go with some of my classmates to visit the Giant Buddha statue (which we traveled to by gondola), explored the city and rode the world's longest escalator (which is more exciting than it sounds!) Our day ended with a group dinner that included everyone on the trip, where we had Peking duck. To date, I think that was one of the best meals I've ever had.
Other Hong Kong and Shenzhen highlights included having a glass of wine at Ozone Bar (world's tallest bar), a night out at Lan Kwai Fong (Hong Kong's premier bar district), and shopping at a "knock-off mall" in Shenzhen.
Making memories with my MBA classmates
This trip was probably the best two weeks of my life. Not only did I travel to a different country and learn about the business environment and culture, but I also got to know my classmates a lot better. Through struggling with the language barrier trying to order food in Beijing, getting lost for over an hour walking to a club in Shanghai, and walking all around Hong Kong on two hours of sleep – we created memories and developed incredible friendships and that will last far beyond graduation.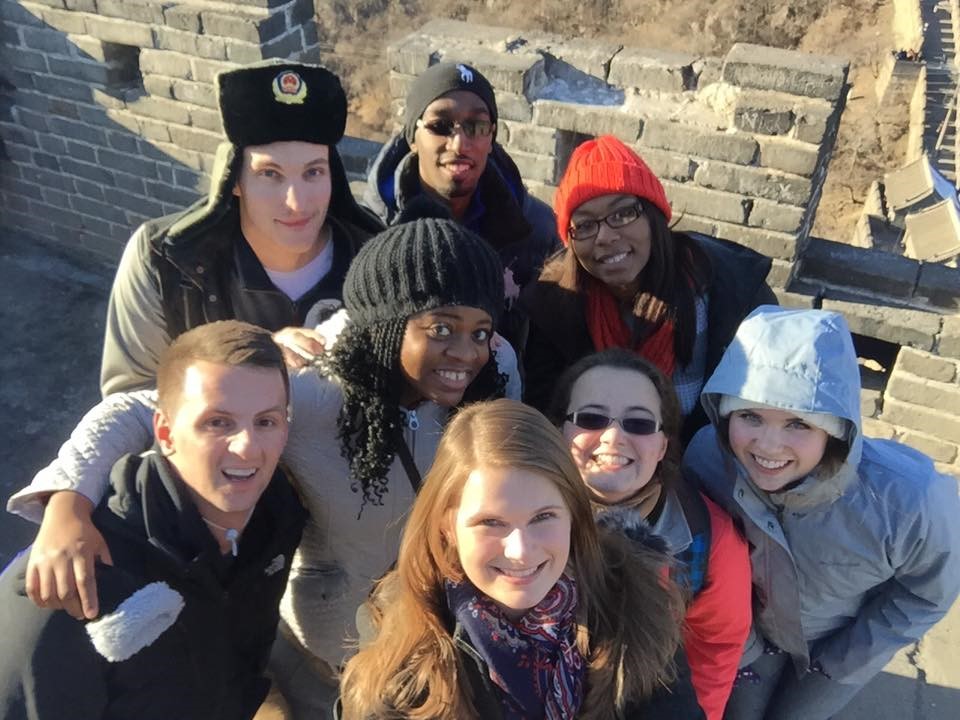 This trip is an incredible opportunity offered by UB's Full-Time MBA program. The quality of UB's connections in China opened so many doors that made our experience extremely valuable. I highly recommend this trip to any UB MBA students. I never thought I would have any interest in going to China. Now that I've been there, I'm already planning my next visit.
UB's Full-Time MBA program exposes our students to people of all backgrounds and cultures from around the world. You can learn more about our global perspectives opportunities and our in-country experiences by visiting us online at mgt.buffalo.edu. Connect with the #UBMBA on social media.
---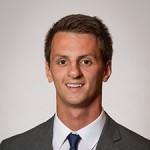 My  name is Adam Fries and after graduation I will be working as a Sales Analyst at North American Breweries. In my free time I love spending time with my family and friends, watching stand-up comedy and skateboarding. I also hold two first place, two second place and one third place awards for Best Traditional Wing Sauce at the National Buffalo Wing Festival—yeah, I take my chicken wings pretty seriously. Connect with me on LinkedIn by mentioning this post, send me an email, or find me at the  bar!