In this four-part blog series, Meghan Wood, director of recruitment and admissions for the University at Buffalo School of Management will share her tips and tricks for applying to business school. Take advantage of these videos, all under five minutes, to get some insider knowledge on how to submit your best application.
Applying to graduate school can be nerve-wracking. You have standardized tests to take, essays to write, résumés and cover letters to craft, and interviews to do, all highlighting your credentials showing why you're the best candidate. . Well never fear, Meghan is here to share with you her tips and tricks to show your credentials off in the best light. In this quick and efficient video, Meghan will teach you how to research the program in which you're interested and how to properly engage with the school where you are applying.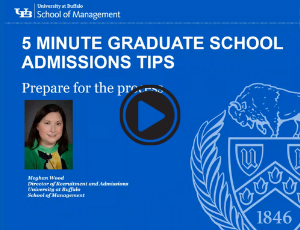 Watch Five Minute Graduate School Admissions Tips: Prepare for the Process
To learn more about our MBA or MS programs, be sure to visit our website, management.buffalo.edu or email us at som-apps@buffalo.edu.