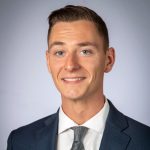 Interview with James Pufpaff, PharmD/MBA '20
Undergraduate Institution: University at Buffalo
Undergraduate Major: Early-Assurance Pharmacy
Graduate Major: Dual Degree PharmD/MBA
Why did you choose UB and what other schools did you consider?
I knew I wanted to go into pharmacy as I was completing my high school education. I looked into schools around the country for pharmacy, and applied to the University at Buffalo, University of North Carolina Chapel Hill and the University of Minnesota. Upon looking into UB's pharmacy program on their website, I found that they offered an early-assurance pharmacy program—allowing students to complete their PharmD degree in six years of studies rather than the usual eight years. In addition to this, I found that UB offers the dual PharmD/MBA degree. I have always been leaning towards the business end of the industry (due to my entrepreneurial and marketing background) and was convinced to do the dual degree when I found that I could complete both degrees in only seven years. The University at Buffalo is local for me, and the value of the education I am receiving combined with the convenient location made it an easy choice.
What made you decide to pursue an MBA?
The MBA will make me more marketable in my field, increase the spectrum of careers I am qualified for, and get me more "bang for my buck" in my education, since I am a part of two accelerated programs at the same university. With pharmacy becoming a saturated field, and many fresh graduates coming out of more and more pharmacy schools every year, I needed to differentiate myself, and the MBA from UB is helping me do so. I will have many additional hard skills coming from the business world, as well as further developed soft skills that you hone in the UB MBA program.
What is the MBA program's greatest asset?
On top of the value of education that UB's MBA program provides, the resources and opportunities that the school organizes for students is a huge asset. From the very beginning, the MBA program paves the way for networking and team building to form bonds with fellow classmates and work through challenges together. With events like MBA Advantage at Beaver Hollow, networking events through the Graduate Management Association, etc. that allow students to build their network, work together, learn more about the program and how to succeed in it, and about future career opportunities—UB's MBA program has many resources for students to tap into.
What do you plan to do with your MBA?
Since I am currently a Tops Pharmacy intern, I plan to work for them in the retail pharmacy setting immediately following graduation and licensure to gain experience and start my career. In terms of my pharmacy career, my eventual goal is to advance beyond the retail setting into administration at a pharma company or managed care organization, with a possibility of a side consulting business. Aside from pharmacy, I hope to expand my automobile detailing business into an operation that can run itself, even if it is just one local shop. I also have a goal to open my own small café. Likely a smoothie bar, offering tasty and healthy variations of what I have incorporated into my daily life.
Where do you see yourself three to five years from now?
I have two more years of schooling over at Kapoor Hall in the School of Pharmacy and Pharmaceutical Sciences (following the completion of my only full-time year in the MBA program this coming May), so three years from now will hopefully be my first year out in the real world starting my career. I hope to be a licensed pharmacist that graduated from the University at Buffalo with both a Doctorate of Pharmacy (PharmD) and MBA. I hope to have followed through as a Tops' Pharmacy intern and have a job with Tops, earning money to put towards my student loans. If another job opportunity in managed care, industry or administration came up by then, I hope to have capitalized on it and expanded my career in that direction. If not, that will be my goal for years four and five.
How would you describe the school?
The University at Buffalo as a whole is very large, which I first recognized while pursuing my undergraduate studies here. However, I have found that the graduate programs here have a very small, tight-knit feel to them. You get to know everyone in your program – both faculty and students, and you all work together to ensure your success. The School of Management speaks volumes to this statement. As long as you have initiative and a strong work ethic, everyone around you will help you use it and address any questions or concerns you may have so that you can continue to learn and work towards your degree.
What advice would you give to a student evaluating what MBA programs to apply to?
Honestly, I did not center my college search around the MBA that I am pursuing, so I do not have a lot of advice on MBA programs specifically. I will just say look at the big picture in general. Pursuing your MBA can be challenging and requires lots of time and dedication to your academic work and developing your professional image along the way. Find a school you feel comfortable at, and enjoy the entire process since you will be putting a lot of effort into it.
Thoughts: Coming from a student who has attended the UB for both undergraduate, and prior graduate study, I thought transitioning into the MBA program was quite smooth overall. I knew how to work and study from previous schooling, so it was no surprise there. I did enjoy many aspects of MBA Advantage, and I am glad we participated in the team building that we did to get to know our classmates before the academic year started. The admissions process is streamlined and easy to follow on the website, and the programs that the school offers like MBA for a Day—where students come and see what it is like at the School of Management—are helpful. The first semester is challenging and requires a good work ethic and the ability to work together with your team, but it is not impossible. The MBA from UB will help you increase your skill set with things you may not get from your previous studies, and set you apart from your peers, all while building your network of connections. I encourage you to look into it, pursue it, and don't give up! I have included some information and links to resources on the School of Management's website below:
Information regarding admissions and programs.
Resource for Dual-Degree options.
My personal academic track (PharmD/MBA)