For me, the Western New York Prosperity winter session was an opportunity for growth, exploration and thinking. From panels on inclusive real estate designs, to touring the manufacturing floor of Audubon Machinery, it was truly eye-opening to see how much Buffalo has grown over the past ten years. As a Buffalonian, I am proud to live in a city that accepts and invests in its residents.
A jam packed week of asking "What's Next?" for our city made me raise another question for Western New York, and that's, "Who Next?" I believe prosperity fellows like me are fully equipped to be the leaders Western New York needs to someday make this region just as competitive as New York city.
As a business and public health graduate student, I recognize that it's important to make a health care agency, hospital, or non-profit sustainable, as well as making sure the patient or community member you are serving is receiving the best treatment or service to improve their overall health.
I plan to use the information from January's winter session to make a profitable and sustainable business. In another five years, I see Buffalo at the forefront of technology, services, and social movements. I am proud to be a Western New York Prosperity Fellow, contributing to the revitalization and growth of Buffalo and beyond.
The deadline is fast approaching for undergraduate and MBA students in the University at Buffalo School of Management to apply for the Western New York Prosperity Fellowship program. Current undergraduate and MBA students must submit their applications by Feb. 27. Applications are due for incoming first-year MBA and MBA dual-degree students by April 1.
———————————————————————————————————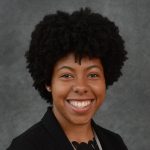 Danielle Vazquez, of Holbrook, NY, will graduate from the University at Buffalo with a degree in social interdisciplinary sciences and a minor in business management. As a SAGE intern for past two years at the Intercultural Diversity Center, Danielle assisted in the implementation of healthy eating campaigns for UB's student body entitled "Snacking Tuesdays." Danielle volunteered at East High School as an educator to local high school students addressing the rising concern of type II diabetes, along with other dietary related chronic illnesses. Danielle was a summer intern at Roswell Park Cancer Institute, where she assisted in research relating to breast cancer.  Currently she interns at the University at Buffalo's Food Systems and Healthy Communities Lab under the mentorship of Dr. Samina Raja, creating a definition database for the Resource Center on Urban Agriculture and Food Security. Danielle plans to pursue a MBA/MPH dual degree at the University at Buffalo, with the intent on using those skills and experiences to create programs and enact policies to combat health disparity issues affecting Western New York.