Many students believe that when they pay their tuition every month it covers their entire semester or university experience. In reality, this is not entirely the case. Gracious donors fund the rest of your education when your tuition money runs out. Donors help pave the way for new technology and capital projects (such as our new Undergraduate Learning and Community Center) just to mention a few. The Graduate Giving Council helps educate School of Management students, both undergraduate and graduate, about the importance of giving. Student philanthropy has brought major change to the #UBMBA and the entire School of Management. We hope you'll want to join in this tradition too!
Why I Got Involved
It has always been one of my goals to be able to give back to the organizations, community and people that allowed me to get to where I am today and will boost me to where I'll go in the future.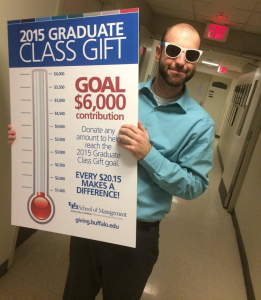 The Graduate Giving Council is about allowing current students to give back to the School of Management and fostering philanthropy education across UB.
I first became involved with the council during my first year in the #UBMBA program. I joined because I saw a direct and immediate way to give back to the university that my budget could afford.
The council is made up of School of Management graduate students across different disciplines, so I have the honor of working with my classmates in the #UBMBA program and also other programs such as MS Accounting. For the past three years, School of Management students embraced a class gift – choosing to leave the school better than when they entered.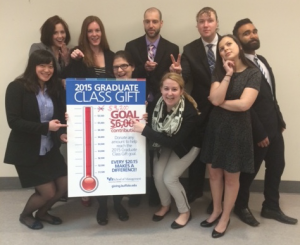 As a result, our student philanthropy efforts have:
Established the graduate student lounge (Alfiero 206N)
Created a tuition assistance fund for #UBMBA students completing unpaid internships, called the G.I.F.T.S Fund.
Installed smart technology in Alfiero Center's team breakout rooms
With the Graduate Giving Council I am able to help the School of Management in a positive way during the #UBMBA and even after I graduate. I strongly believe that you should leave something better than when you arrived. Through these gifts, I am creating an environment that other students can benefit from for years to come.
The smart technology we installed in the breakout rooms is used by #UBMBA students to practice their presentations for classes, case competitions and other important meetings. It's great to see everyone have the ability to collaborate and rehearse on a whole new level.
There are some great perks to donating to the School of Management as well. As a student donor, if you give $100 you are inducted into the Shareholder's Society. This is an amazing opportunity to network, as a #UBMBA student, with highly engaged alumni throughout the Buffalo area. These alumni love the #UBMBA and they're always excited to see our current students active in the community and promoting student philanthropy.
You Can Help Us
Each year the Graduate Giving Council hosts a Day of Giving. It's an all-day event where we ask students to donate—and trust us, every donation matters! This year the Day of Giving is March 2, and the money donated will support the renovation of the Graduate Student Lounge. We are taking the space to a new level, installing new furniture and redesigning the space as a collaborative study environment.
Donate any amount to help reach this year's goal of $7,000 and 100% participation and to leave a lasting impact. Even $10 makes a difference! Click here to donate today!
---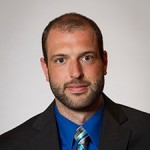 My name is Richard Amantia II and I am the current graduate chair of the Graduate Giving Council. I began my journey at UB as an undergraduate. After earning a bachelor's in business administration, I transitioned into the #UBMBA program in the fall of 2014. You can connect with me on LinkedIn by mentioning this post.