We will be posting every event APMS offers to club members on the website. Checking the website for events all the time and keeping track of lots of emails can be a pain. Luckily, we have created a way for you to sync any event posted on the website straight to any gmail calendar, including your UB calendar! If you use a gmail calendar on your phone, you can sync the APMS calendar to your phone after following the steps below and simply making sure the APMS calendar sync is turned on your phone. If after following these instructions you still need help, feel free to speak to an e-board member at a meeting.
Step 1 – Sign into gmail account you would like APMS Calendar to sync to. This process is a lot easier to follow if you are signed into 1 Gmail/UB Account Only 
Step 2 – Find the upcoming events section on the website. (There are three locations for this. Any option will work but for simplicity this guide follows the path by choosing the Upcoming Events sidebar that will be on almost every page of the website.)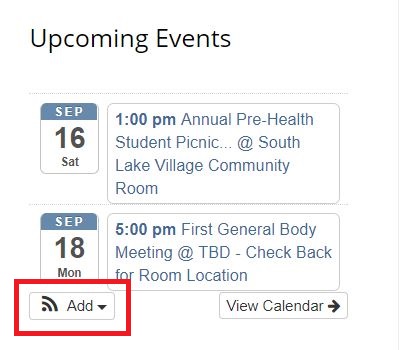 Click "Add"
Step 3- Choose Calendar Option you would like to sync to. (This guide is for Gmail. If you use a different vendor, choose the option that you prefer.)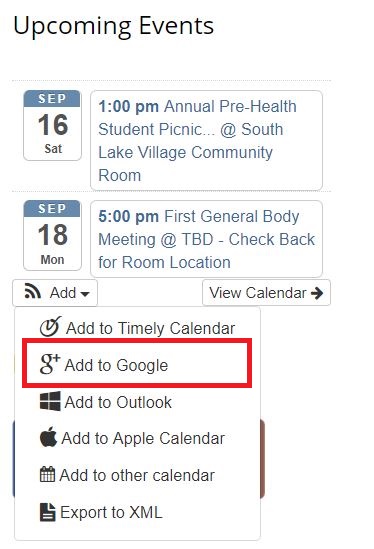 Click "Add to Google"
Step 4 – Allow Calendar to Sync to Gmail. 
Click "Yes, add this calendar"
Step 5 – Make Sure Calendar is Active 
You want to make sure that there is a color next to the url listed (You can change the color of the events in your calendar). This means the calendar is active and should sync. Please note that the calendar usually takes 24 hours to sync events so it is okay if you do not see any events listed immediately – they will show up soon!
If this does not automatically sync to your phone, you may have to just turn it on as an active calendar in your settings. Since there are so many students that use different apps and phones, guides will not be posted online to resolve this issue. The vice-president will most likely be able to help you sync to your phone at a meeting/event.
We hope this helps to keep you up to date with what is going on! Please let us know if you like this feature or if there is anything we can do to enhance the experience!